Baldwin's gutsy effort falls short against Piper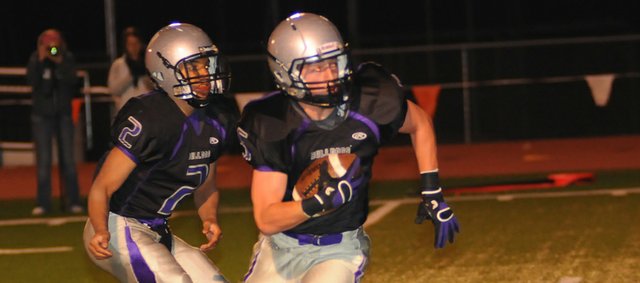 Turnovers and injuries derailed Baldwin's run in the 4A state playoffs

Kansas City Piper beat Baldwin, 27-21, to remain one of eight teams still vying for the 4A state championship.
Junior Cornell Brown set up the Bulldogs first touchdown with a 42-yard punt return to the Piper 21-yard line. But he would leave the game for good before the end of the ensuing drive after going into the middle of the Pirates' line on a second-and-goal play. Junior Chad Berg scored the game's first touchdown on the next play on a 3-yard run with 6:25 to play in the first quarter.
Despite Brown's absence, Baldwin's offense continued to click on its next possession. Quarterback Tyler Cawley led the Bulldogs on a four-play, 70-yard drive that included passes of 37 and 26 yards to Berg, with the later going for a touchdown with 2:06 to go in the first quarter.
Unfortunately for Baldwin, Berg would leave the game with an ankle injury with a little more than 7 minutes to play in the second quarter. With two of its stars watching the game on crutches, Baldwin's offense struggled with turnovers. Baldwin had three interceptions and turned the ball over four times on fumbles — two of which set up the Pirates in the red zone.
The second of those red zone fumbles came near the end of the third quarter and stole the momentum from the Bulldogs after a spirited defensive stand stopped Piper on fourth-and-goal from inside the 1-yard line.
It was the last Piper score and the visitor's only one of the second half despite enjoying good field position throughout.
Baldwin coach Mike Berg said his team battled through the adversity of losing two of its key players.
"I'm proud to be the coach of these high school athletes," coach Mike Berg said. "They showed true character.
"We have a lot of depth with kids ready for the opportunity to play. When they get a chance, they are prepared to make the most of that opportunity."
Baldwin got back on the scoreboard with an eight-play, 71-yard drive. Big plays in the drive were a 32-yard pass from Cawley to junior Luke Fursman and freshman Jake Katzer's 20-yard run. Cawley would bring the Bulldogs to within six points with a 2-yard touchdown run with 8:41 remaining in the game.
Baldwin would get the ball three more times with a chance to take the lead, but the turnover bugaboo killed two of those drives and the Bulldogs' last chance ended when Cawley's fourth-and-eight pass from the Baldwin 43 fell incomplete with less than a minute to play.
K.C. Piper 27, Baldwin 21
Baldwin (7-4) 14 0 0 7 – 21
K.C. Piper (9-2) 6 15 6 0 ¬ 27
Scoring: Baldwin-Berg, 3-yard run (Austin Kraus kick); Berg, 28-yard pass from Tyler Cawley (Kraus kick); Cawley 2-yard run (Kraus kick)
Piper- Tanner Eikenbary 32-yard pass to Sean Eskina (kick blocked); Matt MacDonald 2-yard run (Eikenbary 2 PAT); MacDonald 6-yard run (Jose Mejia kick good); Maverek Dearinger 4-yard pass from Eidenbary (Mejia kick failed)