Jenkins faces challenge to retain congressional seat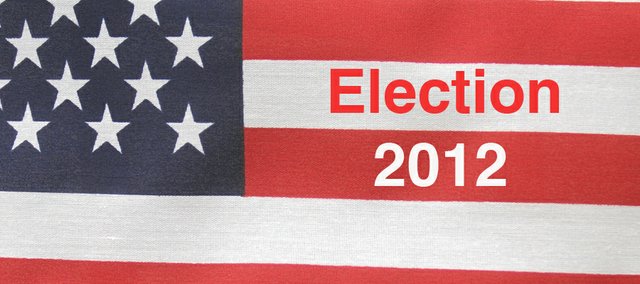 Democrat Tobias Schlingensiepen says solutions to the nation's problems are being stymied by monied interests in Congress, and that U.S. Rep. Lynn Jenkins has been complicit in that effort.
But Jenkins, a Republican, blames what she describes as the big government agenda of the Democrats in the U.S. Senate and President Barack Obama.
Jenkins and Schlingensiepen, who are both from Topeka, face off in the Nov. 6 election to represent the 2nd Congressional District, which includes Lawrence and much of eastern Kansas. Dennis Hawver, a lawyer from Ozawkie, is the Libertarian candidate.
Schlingensiepen, a minister, said that if elected, he would fight the "fundraising circus that puts members of Congress in debt to wealthy corporations."
He puts Jenkins in that circus, noting that she has taken hundreds of thousands of dollars in campaign contributions from banks, insurance and financial companies while voting against regulations of those interests that he said are aimed at safeguarding consumers.
Jenkins, who is seeking her third two-year term, said she voted against regulations that hurt small banks in the district. She said that when Obama took office and Democrats controlled both chambers of Congress, they passed regulations that have hurt the economy.
"They believe government can solve our problems, while I believe that in many cases, government is the problem," she said.
On the issue of taxes, Jenkins has called for an overhaul that lowers rates and eliminates loopholes that she says are used mostly by the wealthy. Schlingensiepen wants the Bush-era tax cuts for those making more than $250,000 to go away.
Schlingensiepen said he supports extension of the wind energy tax credit; Jenkins said she supports a temporary extension of the wind energy production tax credit and would like to see it phased out as part of comprehensive tax reform that would remove many credits and deductions.
Schlingensiepen said he would protect funding to Public Broadcasting; Jenkins said she would pull the plug.
Jenkins has voted repeatedly to repeal the Affordable Care Act and has accused Schlingensiepen of refusing to take a stand on the issue. Schlingensiepen has said there are parts of the ACA that he likes but that it doesn't address the issue of driving down health care costs. He has said putting everyone under a Medicare-type system would be logical, but not politically possible.
Schlingensiepen said the Medicare overhaul proposal that Jenkins has voted for would increase the cost of health care by more than $6,000 per senior citizen, but Jenkins said the plan was necessary to keep Medicare from going bankrupt.
Libertarian candidate Hawver said he would drastically reduce the role and spending of the federal government. For example, he said the Defense Department could take a 50 percent cut, and that he would "stop these stupid wars." He also said he would take no action against Iran if that country developed nuclear weapons.
In the money department, Jenkins is far head, taking in $1.76 million during the election cycle and having $1.4 million cash on hand at the end of September. Schlingensiepen had collected $154,000 and had $50,420 cash on hand. Hawver reported no expenses.
Prior to this election, Douglas County had been split between the 2nd and 3rd congressional districts. But the new lines, drawn by three federal judges after the Kansas Legislature and Gov. Sam Brownback failed to agree on new redistricting maps, places all of Douglas County in the 2nd.
That raised Democratic voter registration numbers in the district some, but Republican voters still hold an edge of nearly 10 percentage points.
Candidate profiles
Dennis Hawver, Libertarian
Age: 69 (DOB: May 6, 1943)
Occupation: Lawyer
Married: Wife, Jolayne
Children: One son, one daughter
Religious affiliation: Protestant
Education: Bachelor of Arts from Washburn University; served in U.S. Air Force, combat veteran during Vietnam War; law degree from Washburn.
Experience: Has run for governor twice, and once before for U.S. Congress.
Quote: "Self responsibility in all aspects; everything from food procurement to medical care."
Tobias Schlingensiepen, Democrat
Age: 48 (DOB: Nov. 24, 1963)
Occupation: Pastor
Married: Wife, Abigail
Children: Eight children, ages 10 to 31, between he and his wife
Religious affiliation: United Church of Christ
Education: Bachelor of Arts degree from Kansas University; the equivalent of a Master of Divinity from Rheinische Friedrich-Wilhelms-Universitaet, Bonn, Germany.
Experience: Senior minister on leave from First Congregational Church, Topeka; volunteer chaplain with the Topeka Police Department; community organizer working on keeping Kansas Neurological Institute open.
Quote: "I believe our nation is strong. A bad economy can't beat us. We can create new jobs, educate our children, give workers a fair deal, and care for the elderly and vulnerable without bankrupting ourselves, but we have to choose better priorities."
Lynn Jenkins, Republican
Age: 49 (June 10, 1963)
Occupation: U.S. representative; certified public accountant.
Married: Divorced
Children: Two
Religion: Methodist
Education: Associate of arts from Kansas State University and Bachelor of Science in accounting at Weber State College.
Experience: Elected state treasurer, state House and state Senate.
Quote: "If we want our economy to recover and our nation to prosper once again, we have to stop taking so much away and give decisions back to the people. Instead of politicians in Washington pretending to know what's best, let the people decide for themselves."