Baldwin state champion wrestler headed to Baker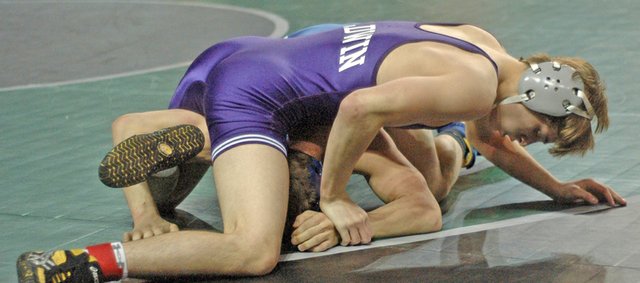 Baker head wrestling coach Jimmy May and assistant coach Levi Calhoun signed local Baldwin City High School standout Bryce Shoemaker to a national letter of intent on Wednesday evening.
Shoemaker was a two-time state finalist at Baldwin and a member of the Kansas National Wrestling team and is a Kansas State Champion.
"I am extremely excited Bryce has chosen Baker University to further his education and wrestling career," said May. "He is an outstanding student-athlete, a team leader, a young man of great character and the type of individual that will continue to elevate the level of our program. "
Shoemaker wrestled for coach Kit Harris at Baldwin High School and his coach is very proud of the accomplishments he had for the Bulldogs.
"This is an exciting moment for our community," said Harris. "For Baker to sign a local star is great for their program. And the Baldwin wrestling community will be able to watch and follow a kid they've seen wrestle since he was six years old when he won his first kids state title. This is yet another tribute to the Baldwin and Baker wrestling connection and how well the programs have worked together for the good of the sport and those involved in it. Bryce will be our fifth wrestler to compete for the Wildcats, we are very proud of that.
"Bryce is joining one of the top small college programs in the Midwest. Baker University has made a name for itself nationally in only three years. And that entirely is a credit to the man behind that success, Coach Jimmy May. He is a coach I have great respect for and admire what he has done for the new wrestling program that was started a few years ago. He has signed great talent and is an incredible coach."
Baker will open the 2012 season this Sunday, Nov. 4 as they host the Dan Harris Open at the Collins Center at 9 a.m. Dan Harris is the father of Kit Harris and helped start the wrestling program at Baker as Director of Athletics.