Former Baldwin High School football coach Merle Venable dies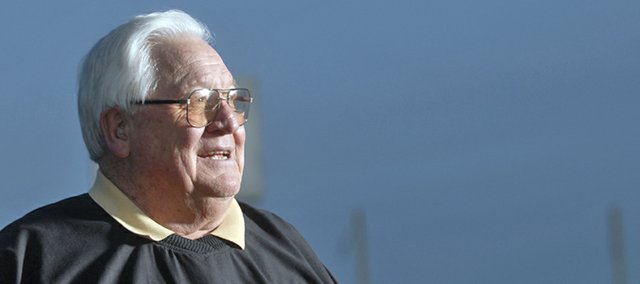 Former Baldwin High School football coach Merle Venable died early Thursday morning.
Ted Zuzzio, Baldwin High School girls track coach, said Venable died after a long and courageous battle with bladder cancer.
Venable was the coach at Baldwin from 1966 to 1985. Zuzzio was his assistant for the last nine of those years. During that time, Baldwin won seven-straight league championships, was state runner-up in 1978 and state champion in 1981.
"He was a wonderful coach and a winning coach," Zuzzio said. "He cared about every kid on the team and every kid in the school. He taught me how to care."
Zuzzio joked that Venable was now with his heroes Jessie James and Cole Younger, two Wild West outlaws he would always bring up to kids when coaching. It was not the only Western reference in his coaching toolbox.
"We listened to the record 'High Noon' every game before going on the field," Zuzzio said. "It's a song about courage and doing the right thing. We carried a record player when we played on the road. We'd plug it in, play the song and hit the field."
Quinn Miller, who played for Venable from 1979 to 1982, said he was a tough but caring coach.
"He challenged you," he said. "He'd kick you butt when you needed it. It wasn't an easy ride.
"But there was mutual respect and love. When you got older, you understood."
Venable will lie in state from 4 to 6 p.m. Monday at Lamb-Roberts Funeral Home, 712 Ninth St. in Baldwin City. His funeral will at 3 p.m. Tuesday at Baldwin First Methodist Church. Burial will be in Oakwood Cemetery immediately following the funeral. The family will have a visitation at The Lodge in Baldwin City after the burial.
He is survived by his wife, Janet, of the home; two sons, Shane, Baldwin City, Scott and his wife, Jill, Baldwin City; daughter, Susan Veber and her husband, Mato, Chicago, Ill.,; sister, Joyce Anderson, Hooker, Okla.,; two grandsons, Cory Venable and Max Venable; three granddaughters, Carissa Gripka and her husband, Mike, Overland Park, Meghan and Jade Venable; one great-granddaughter, Ava Kay Gripka and many special nieces and nephews. He was preceded in death by his parents; two sisters, Robbie Venable and Coetta Mae Turner, and son, Steve Venable.