Company pitches contract bus service to Baldwin
USD

348 board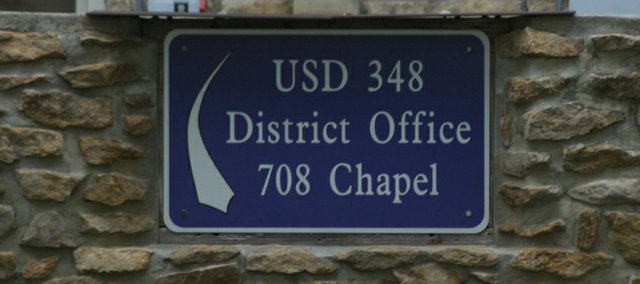 The Baldwin USD 348 Board of Education will hear a proposal next month from a private company interested in providing contact bus service for the district.
At its May 21 meeting, the board agreed to put on its June 11 special meeting agenda a proposal from Apple Bus Service to provide bus service to the district with the start of the 2012-2013 school year.
Superintendent Paul Dorathy said Apple approached the district about the possibility. The company specializes in providing service to school districts of Baldwin's size, he said.
"They came to us," he said. "We told them to shoot us a proposal, so we can see if it makes sense financially or not. I don't know if we're going through with it. That's up to the board."
The company's Web site identifies Apple Bus Service as a Kansas City area family owned company that provides service to school districts in three states. A map on the site indicates most of those districts are along the Kansas-Missouri line and include the Garnett, Osawatomie and Spring Hill districts on the Kansas side and the Raymore-Peculiar, Cass-Midway and Butler districts in Missouri.
Dorathy said the proposal would have the district sell its buses to Apple and the company would then supply the district with buses. All Apple's buses are 8 years old or newer, he said.
As part of the deal, the district would lease its bus barn to the company. Apple would hire and provide benefits for personnel, Dorathy said.
Dorathy said a contract bus service was one thing many patrons proposed the district explore as a cost-saving measure during discussions that led to the closure of Marion Springs and Vinland elementary schools.
With its agreement to hear the Apple proposal, the board delayed a decision on putting video cameras in school buses to monitor student behavior. Board members were told Apple's buses would come with such cameras.
The board debated but passed on a staff recommendation to install video cameras last year. At the May 21 meeting, board members Bill Busby, Chad Christie, Nick Harris and Ande Parks said they now supported the move, while members Ruth Barkley and Sandy Chapman were opposed.
Chapman said bus cameras needed to be discussed in context with other school security issues.