Baldwin teams both second at state track meet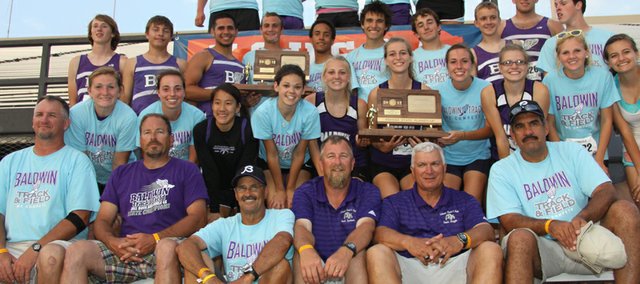 Wichita — Although disappointed they didn't repeat as state champions, Baldwin High School athletes were able to enjoy their second-place finishes at the Kansas 4A Track and Field Meet.
"I think there was a little disappointment at first they didn't repeat," boys track team coach Mike Spielman said. "But once they had time to reflect, I think they were happy and appreciated what they accomplished."
The team members' disappointment is understandable because both the boys and girls teams didn't surrender their titles easily. Both teams entered the final race of the day, the 4-by-400-meter relay, with a chance to repeat — or, in the case of the girls, three-peat — as state champions.
Unfortunately for the Bulldogs, their main competitors were also strong in the 4-by-400 relay.
The girls team of seniors Carol Whaley and Elizabeth Sigvaldson and juniors Kaitlyn Barnes and Glenn Kelley McCabe closed out an impressive season with a first-place finish at state with a time of 4:03.36. The effort was enough to lift the girls by Pratt for second-place in the overall team standings. But any chance the girls had of claiming third- straight state crown ended when Paola crossed the finish line in second place, giving the Frontier League rival a final point total advantage over the Bulldogs, 57-49.
Nonetheless, girls coach Ted Zuzzio was proud of the relay team and his team overall.
"That's the third year in a row we've won the mile relay," he said. "They didn't lose a race all year. At the regionals, they ran the fastest time of any team in any class all year. That's something to be proud of. They didn't know. They were just running to win.
"We did what we could do (at state). We had quality, and Paola had numbers. All weekend we had kids compete. We came up a little short because of volume."
The boys 4-by-400 relay team of sophomore Chad Berg, senior Tosh Mihesuah, freshman Joel Halford and senior Asher Hannon raced to a second-place finish, boosting the Bulldogs past Andale in the team standings. But the boys team saw its quest for a second-straight 4A crown end when Buhler won the 4-by-400 and claimed the state overall title with 52 points to Baldwin's 47.
The girls 4-by-800-meter relay team of Whaley, Sigvaldson, sophomore Hannah Hutton and Barnes also claimed gold with a time of 9:39.28. Zuzzio said Sigvaldson had a personal record for her leg in the race.
The third gold medal winner for the girls was junior Katie Kehl, who claimed the state title in the discus with a throw of 137-05. Kehl followed up with a second-place finish in the shot put, in which her throw of 44-04 was an inch less than that of the champion, Cassie Caswell of Nickerson.
"Katie threw it a foot farther than she's ever threw the shot in her life," Zuzzio said. "She was an inch away from a second gold medal. She was wonderful all year."
Junior Dayton Valentine got the Bulldogs off to a strong start Saturday morning with his gold-medal performance in the discus. Valentine won the first event of the day with a throw of 166-1.
Valentine and senior Jake Mindez got boosted the boys' title shot Friday in the shot put. Valentine won the morning event with a throw of 55-2.25, and Mindez had the fourth-place throw at 50-9.5.
Also providing points for the boys on the final day of competition was the fourth-place finish of the 4-by-100-meter team of Berg, Mihesuah, Halford and Hannon, and the fifth-place honors claimed by the 4-by-800 team of senior Brian Wright, sophomore Ben Hartzell, freshman Joe Pierce and Mihesuah.
Hannon finished fourth in the 100-meter dash and sixth in the 400-meter run.
Spielman said his seniors — Wright, Mihesuah, Hannon and Mendez — were a big part of the team's success.
"They just did a great job," he said. "They all had good performances and were on teams that brought home state trophies the past two years."
"Asher had four medals and Tosh was on all three relay teams. That's a monster day for those two seniors."
Also scoring for the girls Saturday was the 4-by-100-meter relay team of junior Elena Watson, Sigvaldson, Barnes and McCabe, which finished fifth. Barnes was fourth in the 800, and McCabe fourth in the 400.
Ethan Hartzell was the first Baldwin High School athlete to score points at the meet with his sixth-place finish in the 3,200-meter run.
State results:
Boys: Buhler, 52; Baldwin, 47; Andale, 40; Lindsborg, 34; Wamego, 31; Paola, 28; Ottawa, 26; Hugoton, 21; Osawatomie, 20; De Soto, 20; Rose Hill, 19; Piper, 17
3,200 meters, E. Hartzell, 6th, 9:56.88; 300-meter hurdles, M. Harmon, 15th, 47.8; shot put, D. Valentine, 1st, 55-02.25; Jake Mindez, 4th, 50-09; discus, Valentine, 1st, 166-01; javelin, Mindez, 158-11; 800 meters, Mihesuah, 8th, 2:01.60; 400 meters, A. Hannon, 6th, 50.25; 100 meters, Hannon, 4th, 11.02; 200 meters, C. Berg, 11th, 23.54; 4 by 800, Baldwin, 5th, 8:17.53; 4 by 400, 4 by 100, Baldwin, 4th, 43.81; 4 by 400, Baldwin, 2nd, 3:26.23.
Girls: Paola, 57; Baldwin, 49; Pratt, 43; Colby, 36; McPherson, 34; Cheney, 28; Andale, 24; Piper, 22,
300 meters, M. Ogle, 12th, 50.73; discus, K. Kehl, 1st, 137-05; shot put, Kehl, 2nd, 44-04; A. Stein; 37-03.5; javelin, J. Katzer, 11th, 113-05; J. Hoffman, 13th, 108-04; 4 by 400 relay, Baldwin, 1st, 9:39.28; 4 by 100 relay, Baldwin, 5th. 50.84; 400 meters, G.K. McCabe, 4th, 58.41; 1,600 meters, Abi Hartzell, 5:45,58; 800 meters, K. Barnes, 4th, 2:20.18; C. Whaley, 10th, 2:24.40; 4 by 400 meter relay, Baldwin, 1st, 4:03.36.