Baldwin HIgh School students could soon trade textbooks for iPads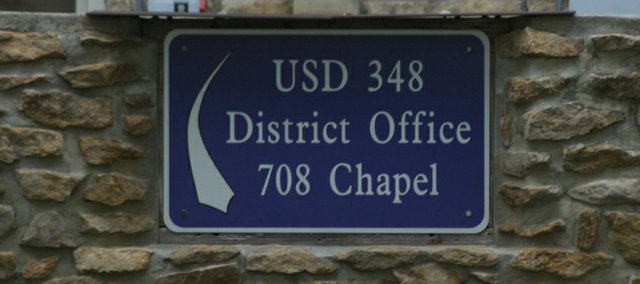 In a nod to the changing world of information access, USD 348 is looking to replace textbooks at Baldwin High School with iPads starting with the 2013-2014 school year.
Superintendent Paul Dorathy said in addition to providing students with up-to-date learning tools, the move would save the district from routinely replacing textbooks, which can cost from $70 to $80 each. Textbooks become out of date when their publishers print new editions, making those currently used worthless, he said.

E-textbooks, which cost about $15 each, would be accessed from the iPads and could be updated much cheaper because there would not be any printing cost involved, Dorathy said.
"It could save us quite a bit of money, while helping the kids learn to organize all their work and schedules and access information through the Internet," he said. "I think a lot could be done if we could get these in students' hands."
The USD 348 Board of Education has yet to approve the change, but board members were supportive when presented May 21 with the plan as part of its consideration of short- and long-term capital outlay proposals.
At the cost of about $500 per unit, the price tag of providing the about 450 students enrolled at Baldwin High School with iPads would be about $225,000, Dorathy said.
The superintendent anticipated the district would enter into a three-year lease-purchase agreement with Apple, which would provide iPads upfront to all BHS students. Apple usually provides those loans interest free, he said.
The district spends about $100,000 annually for K-through 12th grade textbooks, Dorathy said. He estimated about a third of that was for high school textbooks.
The iPad program would start with their introduction to the school's faculty for the 2012-2013 school year, Dorathy said. That would cost about $20,000, he said.
"They would go into the hands of staff for training this next year, and then be ready to go for students in the 2013-2014 school year," he said.
Dorathy said his guess was the iPad would remain the district's best option but it would explore products such as Kindle and others introduced in the next year.
"Over this next year, we'll do some evaluation to make sure the iPad is the best move for the district because there are other options out there," he said. "That won't stop our staff from learning to use the iPads. If they can use the iPad, they can certainly use any other thing that is on the market."
The district has used iPads in its high school 21st Century Literacy Program for the past two years, Dorathy said. That has allowed it to develop and test insurance and replacement policies in the event of damage or theft, he said.
"There's really been no problems with that," he said. "Now, there could be more with a larger scale, but iPads come with tracking devices so we can trace them."
The district also has in place filters that prevent students from accessing inappropriate Internet sites via the district's Internet, Dorathy said. Students could visit inappropriate sites while at home, just as they could with a home computer if unmonitored, he said.
Dorathy acknowledged the iPads would be dated and well used by the time they followed a student through four years of high school and anticipated the district would make them available to graduates for a nominal fee.
"I'm glad the board is committed to doing this," Dorathy said. "I think it's a good thing for our students and makes them more competitive with students on other Kansas districts that have already made one-to-one initiatives."