Baker University releases dean's list for spring semester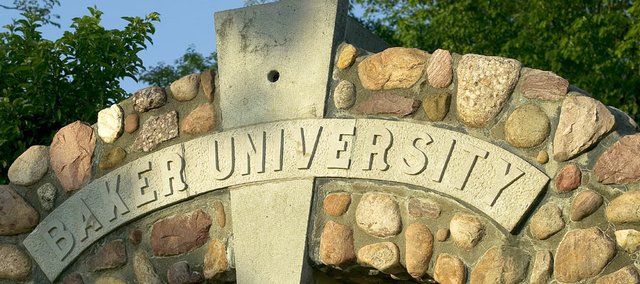 The following students were named to Baker University's College of Arts and Sciences dean's list for maintaining a 3.5 grade-point average or higher for the spring 2012 semester:
JaNay Adgers, Kansas City, Mo.; Nicholas Aguilar, Lenexa; Jacqueline Albin, Wakeeney; Charles Aldrich, Topeka; Mejalli Al-Kofahi, Baldwin; Brooke Allen, Topeka; Callene Anderson, Agency, Mo.; Kayla Anderson, Alma; Louise Ashley, Topeka; CelestaAust, Olathe; Ian Autry, St. Petersburg, Fla.; John Babb, Topeka; Kryie Bair, Great Bend; Brittany Barker, Olathe; Haley Barnes, Hiawatha; Mariah Barnett, Salina; Kyle Baum, St. Louis; Connor Bechard, Baldwin City; Samuel Beecher,Baldwin City; Eldon Beiser, Leawood; Sara Bell, Green Ridge, Mo.; Jessica Benner, Wincester; Beau Bennett, Pittsburg; Caroline Berblinger, Buhler; Stephanie Berg, Shawnee; Adam Blevins, Baldwin City; Courtney Boedeker, Lee's Summit, Mo.; Austin Boehm, Paola; Charles Bollinger, Pomona; Kaylene Bonjour, Formoso; Jana Boss, Shawnee Mission; David Bowers, Burlington; Gregory Bradford, Jetmore; Bristol Brandt, Overland Park; Samantha Brandt, Gardner;Taryn Brees, Topeka; Kacee Britton, Sterling; Lindsey Brown, Overland Park;Mason Bruza, Paola; Bailey Buchman, Spring Hill; Emily Buhler, Topeka; Alexander Bulk, Wamego; Nathan Byarlay, Olathe;
Aaron Caldwell, Overland Park; Kirsten Chamberlin, Wichita; Courtney Chambers, Independence; Katherine Chandler, Orlando, Fla.; Tara Chumley, Tonganoxie; Amanda Ciambrone, Baldwin City; Cooper Clark, Haysville; Corey Clark, Baldwin; Kendra Clark, Emporia; Tanner Clark, Holton; Drew Clement, Shawnee; Kelsey Cobb, Overland Park; Katelin Colby, Paola; William Cooke, Lawrence; Britton Coppenbarger, Madill, Okla.; Allison Crawford, Overland Park; Hannah Dalrymple, Lyndon; Rachel Dannen, Olathe; Allison Davis, Waukee, Iowa; Rebecca Davis, Lawrence; ShawnDeegan, Kansas City, Kan.; Nancy Delgado, Emporia; Keith DeMint, Baldwin City; William Detrick, Olathe; Adriane Dick, Lawrence; Jordan Dolbin, La Mirada, Calif.; Katelyn Doolittle, Ottawa; Sydney Doster, Gardner; Jacob Draisey, Raytown, Mo.; Christopher Duderstadt, Overland Park; Parker Duncan, BaldwinCity; William Duncan, Baldwin City; Margaret Dupes, Fallbrook, Calif.; Abbey Elsbernd, Andover; Paul Eltschinger, Lawrence; Megan Emas, Overland Park; Haley Epperson, Eudora; Shaley Epperson, Silver Lake; Shelby Equels, Bonner Springs;
Tyler Falck, Topeka; Evan Falvey, Jensen Beach, Fla.; Shayla Farley, Pisgah, Iowa; Sheldon Farrell, St. Joseph, Mo.; Hayes Farwell, Fredonia; Rachel Felich, Kansas City; Rebecca Fitzpatrick, Olathe; Brittany Friedel, Gardner; Kathryn Fritz, Spring Hill; Matthew Fry, Emporia; Alexa Fryer, Fort Collins, Colo.; Brittany Gapter, New Cambria; Hannah Geenens, Stilwell; Megan Gipson, Olathe; Shelby Gitchel, Pillipsburg; Devin Glasgow, Enid, Okla.; Tyler Glatczak, Centralia; Casey Gleue, Lawrence; Ryan Gleue, Lawrence; Ryan Good, Amsterdam, Mo.; Jesse Green, Baldwin City; Danielle Griggs, Topeka; Brandon Haefke, Holton; Rachel Haley, Lawrence; Laeth Hamil, Overland Park; Ariella Harrison, Anza, Calif.; Melissa Hasty, Cheney; Rachel Hawkins, Baldwin City; Andrew Heim, Leavenworth; TaraHeinrich, Shawnee Mission; Jake Heller, Lenexa; Eric Hendricks, Basehor; Phillip Henes, Lenexa; Amanda Hershberger, Hesston; Justin Hill, Baldwin City; Lindsay Hill, Kansas City, Mo.; Brittany Hines, Baldwin City; Megan Hobbs, Olathe; Michael Hobbs, Olathe; Jaci Hoing, Lansing; Elizabeth Hopkins, New Strawn; Cody Hoskins, Rantoul; Kevin Hostetter, Salina;
Madeline Imlay, Leawood; Douglas Ireland, De Soto; Ulrich Johanning, Lawrence; Wolfgang Johanning, Lawrence; Lesley Johnson, Shawnee; Marlee Johnson, Olathe; Sydney Johnston, Overland Park; Tyler Keal, Parsons; Summer Kelley, Lenexa; Bryan Kindle, Eudora; Dustin King, Overland Park; John King, De Soto; Richard Klein, Prince George, British Columbia; Elizabeth Krehbiel, Lawrence; Kellen Kristoffersen, Leawood; Kerry Kurta, Overland Park; Sara Kyte, Oberlin; Adam Lackey, Lindsborg; Brian Lamoreaux, Baldwin City; Justin Lane, Gardner; Timothy Laughlin, Waterville; Andrew Leiker, Lenexa; Owen Lewis, Basehor; Emily Liston, Overland Park; Elizabeth Louden, Princeton; Farng Loveland, Wichita; Kaitlyn Lutz, Stilwell; Tera Lyons, Strasburg, Colo.; Kevin Lysaught, Shawnee Mission; Kevin Magdael, Henderson, Nev.; Reno Marical, Tuttle, Okla.; Eric Marley, Shawnee; Courtney Masrud, Baldwin City; Allyssa Massie, Lee's Summit, Mo.; Ashley McEachern, McPherson; Gunnar McKenna, Holton; Alyse Menghini, Lincoln, Neb.; Amanda Meyer, Sabetha; Lee Michel, Downs; Morgan Miller, Topeka; Jeffrey Milton, Overland Park; Patrick Mirch, Baldwin City; Kassie Miskho, ColoradoSprings, Colo.; Jacob Mogle, Columbus; Brandon Moore, Jefferson City, Mo.; Michael Morefield, Overland Park; Jason Morris, Kansas City, Kan.; Teresa Morse, Gardner;
Patrick Nall, Lenexa; Joseph Naughton, Troy, Mo.; Christy Nelson, Manhattan; Allysha Newton, Osawatomie; Jacob Nowak, Overland Park; Xiomara Nunez, Dallas; Alexia Nyoni, Harare, Zimbabwe; Samantha Oehlert, Baldwin City; Bradford Oliva, Topeka; Joel Olivas, Henderson, Nev.; Chad Orum, Henderson, Nev.; Corinna Papps, Ottawa;Callie Paquette, Ottawa; Alyssa Paul, Paola; Calvin Pearce, Lawrence; Chelse Pennock, Colorado Springs, Colo.; Megan Perry, Lawrence; Shelbi Petty De Soto; MacKenzie Pfeiffer, Wellsville; Milan Piva, Parsons; Michael Preut, Nortonville; Kaylyn Price, Gardner; Thomas Pruitt, Peculiar, Mo.; John Qualls, Henderson, Nev.; Jordan Queen, Derby; Deaudra Ramsey, Louisburg; Megan Reid, Baldwin City; Eric Reimer, Emporia; Dominick Reiske, Lawrence; Devan Rethman, Topeka; Robert Retzer, Ottawa; Aaron Rieschick, Holton; John Robbs, Baldwin City; Priscilla Roberts, Auburn; Margo Rodewald, La Cygne; Lucas Roepke, Waterville; Jessica Rogers, Gardner; Megan Rosa, Olathe; Joshua Rydberg, Overland Park;
Ashley Sampson, Lee's Summit, Mo.; Amanda Sams, Prairie Village; Miles Sanderson, Leawood; Vanessa Saphangthong, Gardner; Brittni Sayers, Centerville; Hannah Schaake,Augusta; Richard Scacher, Harrisonville, Mo.; Christopher Scheideman, Baldwin City; Alix Schiraldi, Shawnee; Valentine Schirmer, Overbrook; Molly Schmeidler, Hays; WIlilam Schowalter, Spring Hill; Scott Schrag, Pretty Prairie; Amber Schroeder, Paola; Jessica Shiney, Louisburg; Taylor Shuck, Lawrence; Betsy Siess, Topeka; Christopher Sifuentes, Bonner Springs; Richard Singer, Topeka; Paige Smith, Hesston; Laura Snider, Ottawa; Benjamin Sobek, Lee's Summit, Mo.; Cy Stallard, Cleveland, Okla.; Jenna Stanbrough, Emporia; Jamie Starling, Gardner; Tiffany Steinbacher, Erie; Maranda Stendebach, Olathe; Tyler Stephenson, Johnson; Rae Stewart, Independence, Mo.; Rachel Strecker, Ellinwood; Marshall Sumwalt, Mequon, Wis.; Levi Sund, Overbrook;
Andrew Taliaferro, Berryton; Haleigh Tenpenny Topeka; Ashley Tevis, Baldwn City; Meagan Thomas, Florissant, Colo.; Kelley Thompson, Pittsburg; Kate Thurbon,Topeka; Emma Tinsley, Shawnee; Samuel Todd, Olathe; Krystina Townsend, Gardner; Brandon Truitt, Kansas City, Kan.; Dustin Turner, Overbrook, Kan.; Jasmyn Turner, Lawrence; Rebecca Uhrig, Woodbury, Minn.; Ashley Ukena, Topeka; Megan Vail,Osawatomie; Samuel Vossen, Tecumseh; Caleb Watts, Smithville, Mo.; Sean Webb, Wamego; Tony Weber, Olathe; Hannah Welliever, Craig, Mo.; Ashley Werner, Pittsburg; Courtney West, Girard; Kaitlyn Westhoff, Fairway; Kylie White, Emporia; Victoria Whitebread, Lawrence; Ariel Williams, Bonner Springs; Bryan Williams, Pinetop, Ariz; Lauren Williams, Olathe; Erin Wilson, Overland Park; Katelyn Wolken, Garnett; Robert Woodall, St. Petersburg, Fla.; Samantha Woodward, Kansas City, Mo.; Andrew Woodworth, Lawrence, Kan.; Benjamin Yates, Pomona, Hillary Yoder, Lawrence; Hakeem Young, Spring Hill, Stacy Yowell, Overland Park; Joshua Zach, Overland Park; and Cameron Zimmerman, Wichita.