Food: Edible heirlooms: Favorite recipes help remember loved ones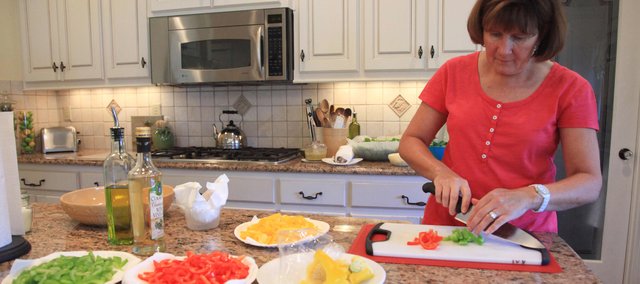 Some of the most valuable family treasures may not be expensive or breakable. And it's unlikely you'll find them itemized in anyone's will (in fact, they may not be written down at all).
While Memorial Day was officially created to honor America's war dead, many people now take the holiday as an opportunity to remember other deceased loved ones and to spend time — often around the table — with those who are still living.
And sometimes, there's nothing quite like the smell of homemade bread or the crunch of bacon on a spinach salad to revive fond memories of the special person who used to cook them.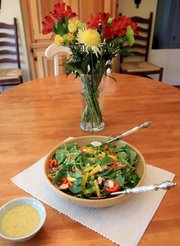 When Marty Travis was alive, relatives gathered each Memorial Day weekend at her New Hampshire home, where they knew her famous bacon-and-egg-topped spinach salad would be on the table.
Her daughter-in-law Ivy Travis, Lawrence, eventually took over preparing that salad. Through the years, Travis applied what she's learned as a Johnson County Community College culinary student and Douglas County Extension master food volunteer to evolve the original dish, making tweaks to improve its flavor and nutritional value (the more colors, the better, Travis says).
The salad remains a surefire hit, Travis said. Though her mother-in-law died in 1998, Travis and her husband, Michael Travis, still serve the salad each Memorial Day when they gather with friends.
"Anytime I bring this, people always want the recipe," Travis said. "They love this salad."
Travis said her own mother cooked mostly meat and potatoes and wasn't big on involving her in the kitchen. Her mother-in-law, however, invited her in and answered all her questions. She also kept a large garden and cooked often with the produce.
The elder cook willingly shared most of her recipes with one exception — Travis had to trade her own recipe for sour cream blueberry bread to get her mother-in-law's recipe for whoopie pies.
"I learned a lot of what I know about cooking from Mike's mom," Travis said. "I miss her a ton and cherish all her recipes."
MOM'S SPINACH SALAD
Removing two or more of the egg yolks, substituting pancetta or proscuitto for the bacon and using less oil in the dressing are options to help cut fat from this recipe.
Serves 8-12
Salad
1 pound spinach, washed and dried
2 red peppers, seeded and diced
2 yellow peppers, seeded and diced
2 green peppers, seeded and diced
1 pound Baby Bella mushrooms, sliced
4-6 hard-cooked eggs (see note, below), diced
1 pound bacon, cooked until crispy, crumbled and drained
Dressing
1 small onion, diced
1 large shallot, diced
2 garlic cloves, diced
1/2 teaspoon salt
1 Tablespoon yellow mustard
1/3 cup white champagne vinegar (Can substitute rice or white wine vinegar)
1/4 cup sugar
1/2 to 3/4 cup olive oil
1/4 teaspoon salt
1 teaspoon celery seed
For dressing: In mini food processor or blender, process onion, shallot and garlic until well minced. Add salt, process again to form a paste. Add remaining ingredients, process again. Chill a couple of hours. Just before adding to salad, process again.
For salad: In a very large bowl, toss together all vegetables. Just before serving, add dressing and toss. Add eggs and bacon, toss again.
Note: Instead of boiling eggs and risking overcooking — which causes them to release a chemical that turns yolks green — Travis suggests hard-cooking them instead. For four eggs, place eggs in pan and add cold water to cover by about 2 inches. On stove, bring to boil. Remove pan from heat, cover and let stand 16 minutes. Drain eggs and place in ice water to cool quickly.
A blast from the bayou — plus banana pudding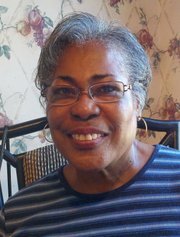 There are reasons Stella Bolin's family only makes dirty rice at Thanksgiving and Christmas.
The foundation of the recipe is a pan of turkey drippings. That said, Bolin's dirty rice is a rich concoction that requires a some TLC at the stovetop.
"It wasn't anything you could just think you were going to finish in 20 minutes and be done with it," said Bolin, Lawrence.
Bolin's grandmother, Orelia Prescott, lived outside St. Martinville, La., and kept chickens and hogs on her property, along with a large garden. She passed her dirty rice recipe down to Bolin's mother, Nita Ledet, who cooked it for Bolin and her six siblings as they were growing up. Bolin and her siblings still make it for their own families during the holidays. "That was our specialty," she said.
Recipe, however, is a loose term. Bolin doesn't have it written down, she just knows what to do. Also, she said, it's a dish that's OK to modify to fit your preferences, especially when it comes to the meats and level of spice. For her family, though, "if it wasn't hot and spicy it had to be spiced up."
A much simpler family favorite is her banana pudding, a recipe Bolin got from a family friend in California, where she and her husband lived until 2005.
"I make this all the time," Bolin said. "At potlucks, that's what they demand of me."
Years ago, Bolin said, banana pudding was made with from-scratch custard. She prefers a faster, easier way to create the cool, creamy treat.
DIRTY RICE
The ingredients in this dish are flexible, depending on your preference. If you're making it after cooking a holiday turkey, use the turkey giblets in place of or addition to the chicken.
Servings: 4 main dish or 6 side
1 1/2 cups long grain white rice
Turkey drippings (can substitute vegetable oil)
1/2 pound chicken livers, put through a meat grinder or finely chopped
4 ounces chicken gizzards, put through a meat grinder or finely chopped
Small piece calf's or beef liver, finely chopped
1/2 pound ground beef
Small piece pork liver (can substitute ground pork), finely chopped
1 onion, finely chopped
1 garlic clove, minced
2 scallions with green tops, finely chopped
2 stalks celery with leaves, finely chopped
1/4 cup minced green bell pepper
1 spring parsley, minced
Serrano pepper (or other hot pepper), minced, to taste
Kitchen Bouquet seasoning, to taste
Salt and pepper to taste
Cayenne pepper to taste
Cook rice according to directions on package, keep warm.
In a roasting pan with the turkey drippings, simmer organ meats. Add ground beef. Add remaining ingredients. Simmer all until tender (can take up to an hour), adding small amounts of water if needed to keep from burning.
Pour cooked rice over meat and vegetable mixture. Working from one end of the pan to the other, use a spoon to scrape and stir mixture into rice one section at a time. Each grain should be coated with the "dirty" mixture, leaving no clumps of white rice.
Serve hot.
CREAMY BANANA PUDDING
1 can sweetened condensed milk
1 1/2 cups cold water
1 package instant vanilla pudding (4-serving size)
2 cups (1 pint) whipping cream, whipped (can substitute artificial whipped topping)
Vanilla wafers
3-4 medium bananas, sliced
In a large mixing bowl, combine condensed milk and water. Add pudding mix, beat well until blended. Chill for 5 minutes.
In a separate bowl, whip the whipping cream until it forms small peaks. Fold into pudding mixture, mix well.
In a 2 1/2-quart glass bowl, place a single layer of vanilla wafers on the bottom. Place sliced bananas over the cookies, and add half the pudding mixture. Repeat. Top with crushed vanilla wafers, and place whole vanilla wafers around sides of bowl.
Chill at least 8 hours before serving. And enjoy!
Pinch of this, 'thumb' of that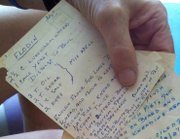 Phil Minkin's memories of his grandmother's house include her backyard garden and grape arbor, and her homemade sauerkraut, pickles and jams.
Also strong in Minkin's memory is his grandmother's version of a traditional Jewish pastry called flodin, which she made with yeast bread dough and cottage cheese filling.
"It's great when it comes out of the oven," said Minkin, Lawrence. "But the next day, if you slice it and fry it, it's divine."
Henrietta Kain immigrated from Russia to Sedalia, Mo., where she raised Minkin's mother, Louise Minkin. Phil Minkin recalls childhood trips to Sedalia, where his grandmother served her homemade bread.
She cooked with loose measurements like a "thumb" of butter, Minkin said, using her basic bread dough as a base for a number of recipes, such as the flodin.
Eventually, Minkin's mother "translated" Kain's bread and flodin recipes into written form. Minkin has those recipes now — handwritten on brittle, yellowed pieces of notepaper.
Minkin tries to be inventive in his own cooking. In the 1970s, when he was the cook at Children's Hour Headstart, his philosophy was featured in a local community cookbook.
"Cooking should be fun and creative," he was quoted as saying. "Cooking only by recipe is like painting by number — good but just like everyone else's. Once you have a basic understanding of cooking and food, the fun of improvising comes in."
Kain's flodin recipe was more notes than specifics. In the version below, we've filled in a few steps to help cooks who feel less comfortable improvising.
HENRIETTA KAIN'S FLODIN
Makes two loaves
1 cake yeast (see note, below)
2 1/2 cups lukewarm water
2 tablespoons sugar
3 tablespoons oil
1 teaspoon salt
3 eggs
Flour (at least 6 cups)
8-10 ounces dry curd cottage cheese
2-3 tablespoons butter, melted
8-ounce carton sour cream
In a large bowl, crumble yeast into water, dissolve. Add sugar, oil, salt and 2 eggs. Mix well.
Add enough flour to make a loose dough (about 6 to 7 cups). On a floured board, knead. Let dough rise, knead again. Let rise a second time. Punch down.
Heat the oven to 350 F.
Mix cottage cheese, 1 egg and melted butter.
Butter two bread pans. Place one-fourth of the dough in each. Spread with cottage cheese mixture.
Spread the remaining dough on top of cottage cheese, pinching edges to bottom layer of dough. Brush with butter and slash top to vent.
Place in oven about 20 minutes. Spread with sour cream, brown slowly until bread is cooked, another 20-30 minutes.
Note: Cake yeast, so-called because it's sold in cake form, is fresh (rather than dried) and also known as wet or compressed yeast. If you can't find fresh yeast, a 0.25-ounce packet of dry yeast is equivalent to a 0.6-ounce cake of yeast, according to redstaryeast.com. Each is enough to raise at least 4 cups of flour.
— Lawrence Journal-World features reporter Sara Shepherd can be reached at 785-832-7187.