Baldwin woman remembers fallen brother with pride, pain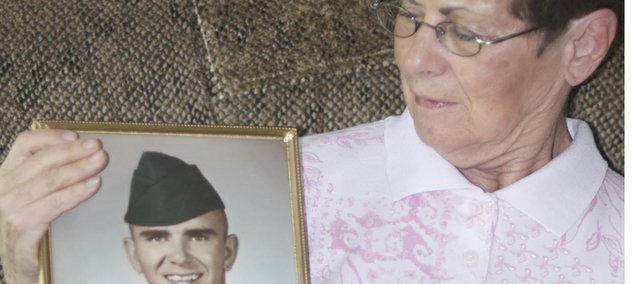 Shirley Rochester points to a photograph of her brother Gary Johnson on her kitchen table. He's in a football uniform, kneeling on one knee with his windblown black hair giving him a first-glance appearance of a young Elvis Presley.
"That's how I remember him," his sister said. "He had pitch-black hair."
Nearby is another photo of Gary. It shows him shorn of most of his hair and again kneeling on one knee between two other soldiers, all wearing white T-shirts and olive green fatigues.
On Feb. 16, 1968, shortly after the second photograph was taken, an enemy sniper took Gary's life in Gia Dinh Province outside of Saign.
"He was walking point with another guy," Rochester said. "Gary was out in the open, and the other soldier was in the jungle. They were talking back and forth when Gary was shot."
The photographs are among a file of keepsakes Rochester has of her brother — more photos, newspaper clippings and rubbings of his name friends have made at the Vietnam Memorial in Washington, D.C. It's been a while since she had looked at the material. Sometimes the pain is too great, Rochester said. But there are times she finds it comforting.
Her brother Larry, four years Gary's senior, has a home movie of Gary in his Army uniform waving goodbye before he left for Vietnam. She finds too heartbreaking to watch, she said.
Rochester was 8 years old when her youngest brother was born on Nov. 6, 1947.
"I took care of him a lot," Rochester said. "I was enough older he was just a doll to me. I think he thought his older sister was a little bossy. I took him with me everywhere."
Gary was good-natured, Rochester said, and very athletic. He liked to hunt but was also fond of animals, adopting and nursing orphaned squirrels, rabbits and birds he would find.
In his late high school years and before he was drafted into the Army, Gary would baby-sit her two boys, Rochester said.
"They loved to have Gary watch them," she said. "He would get down on his hands and knees to play with them."
He would spend nights and weekends at the farm of friends Mike and Ike Taylor, returning home with stories of painting rooms and other chores Gary's mother said she could never get him to do.
Mike Taylor, who graduated with Gary from Baldwin High School in 1966 and would follow him to Vietnam, said specific memories of Gary have faded in the 43 years since his friend's death. But he, too, remembers Gary as a happy-go-lucky guy. They did what teenagers did in the 1960s, hang out and drive around town, Taylor said.
They were both part of a Baldwin High School football team Taylor remembers going undefeated for two seasons.
Gary worked a number of jobs in the year after his high school graduation and before he was drafted, including working at a filling station Rochester and her husband, Gary, owned. But he hadn't settled on anything and had no qualms about being drafted.
"He didn't regret being called because some of his friends had been drafted, and he thought, 'Why hadn't he been called?'" Rochester said.
Her athletic brother found basic training easy, writing that he sometimes carried the packs of those less fit during training exercises, Rochester said.
When he got to Vietnam in November 1967, Gary wrote that he felt sorry for the country's children "because they didn't have anything," Rochester said.
She wrote Gary four or five times a week while he was in the Army, sending candy with the letters, Rochester said. Eighty percent of the letters came back. Those letters and those Gary sent are not part of his file.
"I destroyed the letters," she said. "It was too hard to look at them."
Gary was killed four months into his combat tour. Rochester said her family learned the details of his death from a friend of Gary's from Indiana who served in his unit. The young man visited Baldwin City, spending a night at the home of her parents, Pearl and Lloyd Johnson.
"It seemed to help my parents," Rochester said. "I remember mom was so nervous about him coming. She wanted to know what she was going to feed him. I said 'He's a boy. Make him hamburgers.'"
The community shared the Johnsons' grief and contributed money for a memorial that was placed in Baldwin High School. The memorial has been moved two times with the opening of the new high school and Performing Arts Center and is now in front of the flagpole at the Baldwin Junior High School entrance.
Gary is honored each year with others who served their country during Memorial Day ceremonies at Oakwood Cemetery.
"I haven't missed one since they started," Rochester said. "At the beginning, it wasn't very big. There were maybe 10 of us. It's grown to a pretty big thing."