Fire damages Lumberyard Arts Center in downtown Baldwin City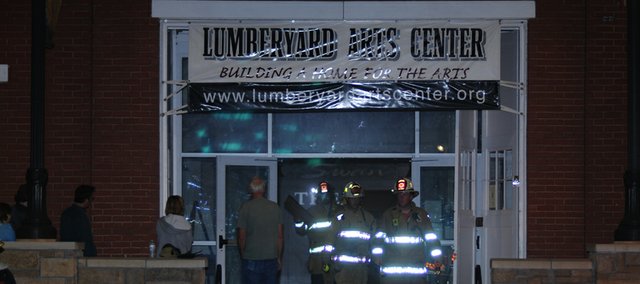 An early Sunday morning fire damaged the Lumberyard Arts Center in Baldwin City, 718 High St.
The fire started around 4:30 a.m., and firefighters reported fire showing on the north side of the building.
Baldwin City Fire Department Chief Allen Craig said there were no injuries. He said the fire was under investigation and they were attempting to determine the cause.
Craig said Monday the fire caused an estimated $50,000 in damage.
Fire protection measures built into the Lumberyard Arts Center proved their worth in the fire, said Sandy Cardens, Lumberyard Arts Center board secretary and gallery coordinator. Damage from the fire was limited to the non-renovated north section of the building, which is to be a future theater, she said.
A sprinkler system in the north section went off with the fire, but a firewall kept sprinklers in the renovated southern section from activating.
"Everything worked as it was designed to," Cardens said. "We're very happy. It could have been a whole lot worse.
"The (Douglas County) fire marshal said the sprinkler system paid for itself last night."
There was no damage to any artwork, Cardens said. Art in the central courtyard and classrooms was moved temporarily to the Baldwin City Chamber of Commerce office next door, but that in the gallery protected by another set of doors was left untouched, she said.
Cardens said she and other board members have not had the opportunity to assess structural damage to the north section but several new windows installed last week in the clerestory will have to be replaced, she said.
The firewall also kept smoke and water damage to a minimum in the renovated section, and Lumberyard board members are hopeful the arts center can reopen this week.
"We had people talking abut opening on Tuesday," Cardens said. "I suspect we'll open a little later in the week if we get people in here cleaning right away."
Cardens said she has answered phone calls and text messages all day from people volunteering to help with repairs.
"People have risen to the occasion like they do," she said. "We will be letting people know if we need more help in the future.
"This is a minor thing. We aren't going to let this prevent us from going ahead with the project."
The Lumberyard Arts Center, at the location of the 1914 Ives-Hartley Lumber Company building, was designed in 2003 at a cost of around $1,000,000. The nonprofit center serves as a downtown Baldwin City arts center.