Scholarship gives Baldwin seniors chance to reconnect with roots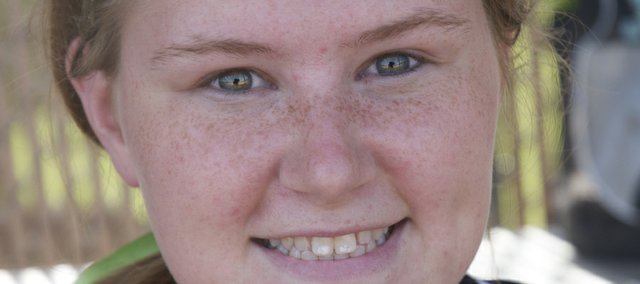 Kylie King would not know her great-grandfather owned a grocery store in downtown Baldwin City had it not been for a chance to earn a college scholarship.
King was one of five Baldwin High School seniors who received a Curtis Coffman Memorial Heritage Scholarship on Thursday at the school's annual awards assembly. Others scholarship winners were Tayler Christian, Zachery Leeker, Hayley Schwartz and Kaley Wright.
Named for the late Curtis Coffman, who had an avid interest in local history, the scholarship is available to students who descend from at least three generations of graduates of schools within present USD 348 boundaries or those who completed the highest level of education offered at the time. To earn the scholarship, students are asked to write a report documenting that heritage.
The Coffman family encourages students to develop oral histories about their families, but King had to use different means. Her father, Jim King, died in January 2011 as the last of four children of Jeanne and Delbert King, who also were dead.
So King learned her family history from obituaries, diplomas and other material her aunt Judy Davidson placed in boxes stored in an attic.
"My cousin Tina (Johnson) and I literally dug through two boxes of obits, school diplomas, newspaper articles, everything," she said. "My aunt and grandmother never threw away anything."
King said she learned her great-grandfather C.J. Fischer, a German immigrant, owned a grocery store in Baldwin City in what is now the dance studio at Eighth and High streets. He prospered enough that in 1902 he built the large white house on the northwest corner of Eighth and Elm streets, in which her cousin still lives and where the family history was stored.
Her paternal grandparents were the first in her family to graduate from Baldwin schools. Her grandfather married C.J. Fischer's daughter Jeanne after moving to Baldwin City because his parents went to Baker University, King said.
"His name was Delbert King, but everybody called him Dub," she said of her grandfather who drove a truck for Standard Oil in Kansas City. "It was a great project because it let me get close to my dad's side of the family. The Fischers were definitely a family who were known around Baldwin, and the Kings as well. Grandpa Dub was a socialite everyone knew from the coffee shops."
She also learned her great-great-aunt Nannie Gander was the first female principal of a Baldwin school. Although she is unsure of the exact dates Gander was principal of Baldwin High School, King knows she signed her grandmother's high school diploma in 1937.
King will attend the University of South Dakota next year on a cheerleading scholarship, but she said the heritage scholarship would help. She plans to study occupational therapy, a profession she became interested in when she saw how it benefitted her after father after he suffered strokes as he battled cancer, she said.
Like King, Kaley Wright's heritage in Baldwin City can be found in one of the city's architectural landmarks. In her case, it is a Victorian home her great-great-grandfather Willard Garrett built in 1904 on Jersey Street. Her parents, Baldwin High School alumni Amy Gurley and Alan Wright, now live in the house. Wright said her bedroom once belonged to her great-grandfather Richard Garrett.
Wright said Willard Garrett was professor of astronomy and mathematics at Baker University from 1902 until the 1950s. His son Richard Garrett, graduated from Baldwin High School in 1926, went to Kansas University and became a Lawrence architect and engineer. His son moved back to Baldwin City, and her father graduated from Baldwin High School.
But he wasn't the first of her family to graduate from Baldwin High School. On her mother's side, her great-great-grandmother Lily Seizer Chanay was a member of the Class of 1913.
Another maternal great-grandmother, Edith Robertson, graduated from Vinland High School in 1937 and married Donald McMillen, who graduated seventh grade at Stoney Point Grade School.
Perhaps inevitably, Wright will enroll in Baker University next fall, where she plans to study psychology.
"I've always loved Baker, and I love the scenery on campus," she said. "I've always wanted to go to Baker. Most of my cousins went there."