Baldwin softball team upset at regionals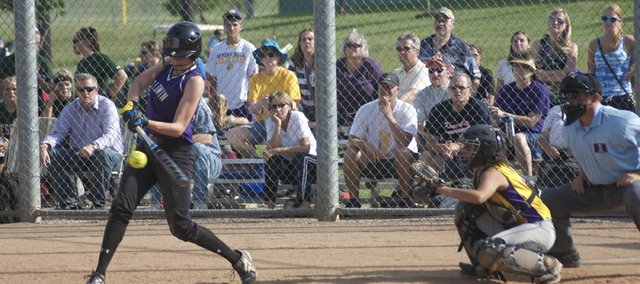 Baldwin's hot bats went quiet at the wrong time Tuesday as the Bulldogs struggled to score runs in a 5-4 loss in the first round of 4A regional play against Spring Hill.
The Bulldogs entered postseason play with a six-game winning streak in which it had scored 70 runs. But the team found runs hard to manufacture Tuesday as it stranded six runners and had two others erased on double plays.
Coach Ginger Crist said she warned the team it was hard to beat a team three times in a season and that Spring Hill would be up after being swept by the Bulldogs in a double header last month.
"We came out flat," Crist said. "We couldn't get any runs across."
Spring Hill showed it was ready to play early, scoring two runs in the top of the first.
Baldwin got a run back in its half of the inning when junior Kaitlin Jorgensen walked, advanced to second on freshman Sierra Hall's single to right field and scored when sophomore Hailey Cope singled to left with only one out. But the promising beginning ended before the Bulldogs were able to plate another run.
Baldwin briefly tied the game when freshman Emily Simpson led off the fourth inning with a double over the left fielder's head. She scored when the Spring Hill shortstop overthrew first base after fielding a high-chopping ground ball off the bat of senior Hayley Schwartz. But the Bulldogs were unable to score senior Kylie King, who ran for Schwartz or junior Katie Pattrick, who singled with two outs.
Spring Hill answered in the top of the fifth with a two-out rally and got an insurance run that proved to be the difference in the sixth.
Jorgensen got Baldwin off to a promising start in the bottom of the seventh with a double to the left-center field gap. Hall made the inning's first out on a hard-hit fly ball to left before senior Madeline Brungardt brought her home with her third hit of the game.
Schwartz went the distance for Baldwin, giving up four earned runs on seven hits in her final game for the Bulldogs.