Baker grad named
CNN

hero for work with refugee children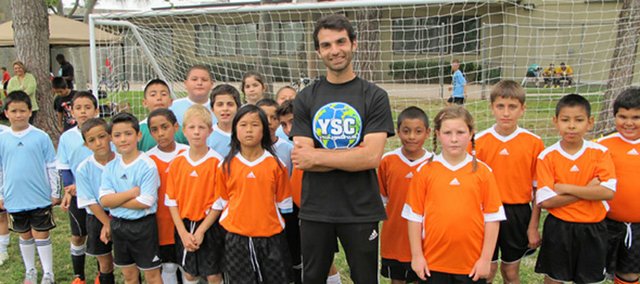 Baker University graduate Mark Kabban knows firsthand the power of sports to foster change and is now sharing that lesson with others.
Kabban is the program coordinator for Youth and Leaders Living Actively, a soccer and tutoring program in San Diego used to help rebuild the lives of child refugees.
"The children lose dignity, their country and the life they had there, sometimes parents and siblings," Kabban said. "Their confidence is so shot; the program is really helping these kids."
YALLA has more than 200 refugee children in its program. They are from Africa, Latin America, the Middle East and elsewhere. The programs include soccer, leadership, education and eco-therapy. The ultimate goal of YALLA is to not only raise the self-esteem of these refugees, but to better their education and get them to college.
"We use soccer as the hub to get them in, and if they play soccer, they have to adhere to our education program," Kabban said.
Kabban's efforts to educate and support the refugees has not gone unnoticed. Earlier this month he was named a 2012 CNN Hero.
Kabban's work with refugees and YALLA are a result of his experiences as a child moving from Lebanon to California.
He said the transition from one culture to another was difficult, and he was bullied because of his appearance. His family didn't have the monetary means to help Kabban to fit in with other kids.
"People would say my shoes looked like homeless guy's shoes," Kabban said.
Kabban's self-esteem took a big hit from the teasing and bullying, so he used athletics as a way to cope. He adapted easily to American football.
"When I came here, the first time I touched a football — that was really how I spent my childhood. So I know how much it means to kids who have a passion for sports," he said.
Kabban moved to Kansas for college after being recruited for football by Baker University head coach Mike Grossner. Throughout high school, Kabban struggled with his academics, but he said the help of the Baker faculty and staff gave him the push he needed to succeed. During his time at the university, he studied abroad and was granted honors funding to travel to Lebanon.
Much like the refugee children in YALLA, a strong support system was necessary for Kabban to succeed.
"The Baker community gave me so much confidence," Kabban said. "They made me feel like I was worthy and I could do all these things. I will always be grateful to Baker for that."
Kabban returned to San Diego and began working as a refugee counselor. As he continued to work with the refugees, he realized there was a need for someone to help ease the transition for the children from other countries. It's been more than a year since Kabban left his job to begin running YALLA programs full time.
"There's so much more work that needs to be done, and it's all about small groups of people who make big things happen," Kabban said. "Nothing would be possible without the people who have helped make this happen.
"It's really just teaching me about life, and if there are things that upset you, there's something you can do about it."