Baldwin bows out of regionals with 5-4 loss to Spring Hill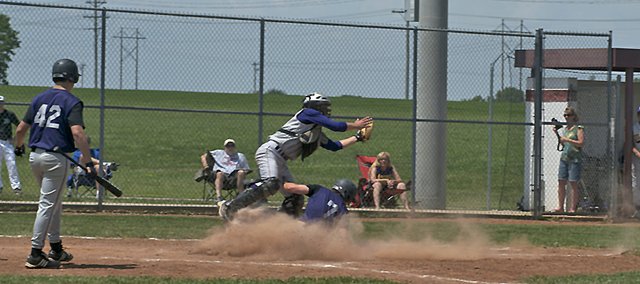 Eudora — The Baldwin High School baseball team nearly defied a season of disappointment when lost , 5-4, in the first-round of regional play to top-seeded Spring Hill.
Spring Hill, two-time state 4A runner up, won in the bottom of the seventh when a bloop fly ball managed to drop in short centerfield, scoring a Bronco runner from second base, who got there on an infield single and overthrow at first.
"I'm as happy as I can be with a loss," coach Brian Turk said. "They represented us very well. I was very upset after the Eudora games, and then they came back to play their tails off against Perry and today against the No. 1 seed."
Turk said singled out the pitching of senior Hunter Burkhart, who held the Spring Hill batters mostly in check with the help of a defense that erased two Bronco runners at third base, one on a double-play tag out and the other on a pick-off move.
Spring Hill needed its walk-off rally after Baldwin came back from a 4-2 deficit, knotting the score in the top of the seventh inning.
Sophomore second baseman Chad Berg started the rally with a one-out double to right and advanced to third base on an infield single from Tyler Kapelle. Two-straight walks to Burkhart and Colton Stark cut Spring Hill's lead to one run and loaded the bases for third baseman Tyler Brenn.
The senior missed on a bunt attempt and a running Kapelle was tagged out at the plate. The Bulldog's fortune quickly reversed when the next pitch hit the dirt in front of the plate and got by the Spring Hill catcher to the back stop, allowing Burkhart to score from third.
The inning ended when senior first baseman Colton Bonner popped out to third.
Berg and Burkhart were involved in Baldwin two-run fifth inning, as well. The inning started with catcher Brandon Mock drawing a walk and advancing to second base on Berg's one-out single to right. Burkhart got Mock home with a single, which also advanced Berg to third.
The Bulldogs then stole a run when Burkhart took off for second base as an inattentive Spring Hill pitcher held the ball. Burkhart stopped short of second, forcing a rundown, but the Spring Hill infielder opted to throw home in an unsuccessful attempt to stop Berg from scoring Baldwin's second run.
Baldwin finished the season 4-17. Monday's loss was the last game for Baldwin for seniors Burkhart, Alex Twombly, Brenn, Bonner and Will Simmons,