Baldwin boys first, girls second in Frontier League meet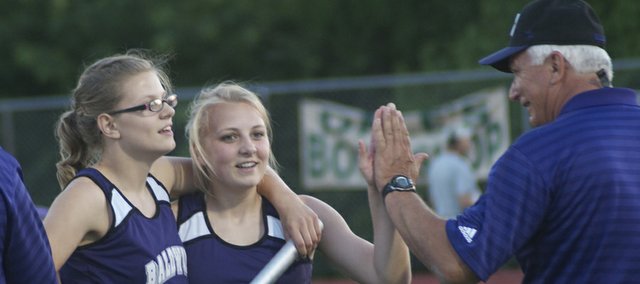 The Baldwin boys took first and the girls finished second in Thursday in the Frontier League track meet in Ottawa.
The boys scored 129 points to take the crown, outdistancing the 100.5 points of second-place Paola.
The girls finished with 89 points and were a distant second to Paola, which finished with 192 points. Baldwin girls won five of the meets 18 events. That was more than the three of champion Paola, but the deep Panther team earned at least one medal in nearly every event.
Leading the way for the champion boy with two individual gold medals were Asher Hannon and Dayton Valentine. Hannon won the 100- and 400-meter dashes with times of 11.19 and 51.16, respectively. He also was on the winning 4 by 400 relay team that finished first.
Valentine once again scored double gold in the shot put and discus. His winning discus throw of 167-9 was an inch off the meet record.
Tosh Mihehuah first in the 800 meters 2:01.44 and was part of the winning 4 by 400 and 4 by 800 relay teams.
For the girls, Glenn Kelly McCabe, pressed hard by Paola's Lauren Frederick, won the 400 with a meet record time of 58.76 and anchored the meet and school record effort of the 4 by 400 relay, which finished at 4:00.66 (the best time recorded in the state this year in any class).
Kaitlyn Barnes won the 800 with a time of 2:21.58 with teammate Carole Whaley finishing second at 2:25.23. Barnes and Whaley teamed with McCabe and Elizabeth Sigvaldson on the winning 4 by 400 and 4 by 800 relay teams.
Katie Kehl won gold in the discus, breaking her school record with a throw of 145-7. The winning mark was the best of any thrower in the state this year.
Kehl suffered a rare defeat in the shot put. Although Kehl fouled on three of her five throws, it would have taken a personal best on her part to beat Paola's Morgan Gilliland who won with a throw of 44-0.5.
Look for updates and more photos from the league meet here and in the May 17 issue of The Signal.