Baldwin senior Brown in finals of Google contest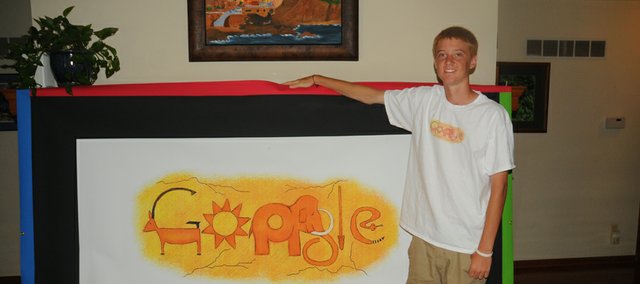 Baldwin High School senior Tucker Brown successfully went back to the Stone Age in his search for inspiration to create a logo for a high-tech company.
At an assembly Wednesday at Baldwin High School, representatives of Google, the company known best for its Internet search engine, announced Tucker was the state winner of its Doodle 4 Google competition.
The state winners' work can be viewed here and browsers can vote on their favorite: google.com/doodle4google/vote.html.
This year, 114,000 kindergarten through 12th-grade students entered the nationwide contest to design a Google logo on the theme "If I could travel in time, I'd visit ... " The company regularly uses such images, or doodles, on its home page.
Brown's Google doodle uses images evoking primitive cave art to spell out Google.
Although he started with two concepts and created at least 10 drawings, Brown said he drew inspiration from the start from prehistoric times.
How to vote
Should he win, he'll get $30,000 college scholarship and a $50,000 technology grant for Baldwin High School. The winning logo will appear on the Google homepage May 18 and on a special-edition 64-box of Crayola crayons.
"I tried a bunch of other ones," he said. "I had a couple of options from the same time period — the Stone Age. I have always found that time period interesting from movies and learning in school about cavemen."
He then painstakingly worked the idea into a logo after using Google (of course) to research examples of cave art.
"I took a lot of time," he said. "I probably did 10 different images. I had different dimensions and used different angles for the animals. I kind of tweaked everything until I finally decided it was good enough."
His parents, Jill and Dan Brown of Baldwin City, said Tucker involved them and his two older sisters and brother in the creative process.
"He worked on it for months," Jill said. "He took a family vote on it at one time."
Also helping him with his creation was Baldwin High School art teacher Christy Carlisle.
"I would draw something at home and then take it to school to show her," Tucker said. "She would give me pointers on color and detail."
Tucker learned his work paid off April 18 when he returned home from school to be asked by his mother why he would be taking a trip to New York City. The answer was that as a winner of the state contest, he and one parent would receive an expense-paid, three-day trip to Manhattan, where this year's winner will be announced May 18.
Should he win, Tucker will receive a $30,000 college scholarship and a $50,000 technology grant for Baldwin High School. The winning logo will appear on the Google homepage May 18 and on a special-edition 64-box of Crayola crayons.
As a state winner, Tucker's work will be displayed at the Wichita Art Museum and with those from other states at the New York Public Library.
As excited as Tucker was about learning he was the state winner, he had to keep the news under wraps as Google arranged Wednesday's school assembly. Now, Tucker wants to share the news with everyone, partially because his fate in the contest is in the hands of voters. Online voting at google.com/doodle4google/vote.html will determine the winner for five age levels. Voting ends at 7 p.m. Thursday. A celebrity panel will then consider the age-level works for the big prize.
Baldwin City isn't as big as the hometowns of some other contestants, but Tucker's father thinks that small-town connections might work to Tucker's advantage. Still, Dan said the family would welcome voters from a larger community.
"He's the Kansas winner," Dan said. "Kansans will be able to support a native son."
Personal connections have been a plus at school. Tucker said his fellow students were voting for him and word has spread to other Baldwin City schools.
"All over Facebook, people are telling me they're voting and telling all their families and friends," he said.
The dining room wall of the Brown's home is covered with the artwork Tucker has created over the years. Tucker plans a future in art as well.
"I'd love to be a graphic artist," he said. "Something in the arts field, definitely. I want to study industrial design next year at Kansas University."