Baker experience teaches graduating student value of friendship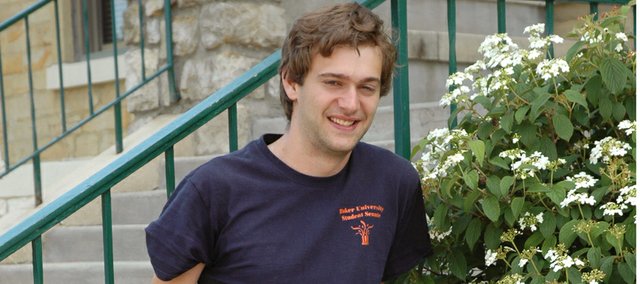 Baker University senior Will Duncan learned so much during his time as an undergraduate student. He learned to be a leader through the many organizations he joined, he learned to be an athlete while on the tennis team and he learned late nights studying in the library or practicing in Owens Music Hall can have a big payoff.
Duncan's most important lesson, though, was the value of friendship with the people he comes in contact with every day.
"I have learned that making friends is more important than competition," Duncan said.
Duncan, a triple major in math, music and international studies, has a competitive spark that is hard to snuff out.
"I always had to be the best at whatever class I was taking or the best musician in the department," Duncan said. "That's fine, but the competition should happen within yourself. Just do the best that you can do and compete with yourself to be better."
Although Duncan is no longer competitive with his classmates, he follows his own words of wisdom and pushes himself to be better everyday, especially in one of his favorite activities: piano.
"When I get bad news, I have my favorite pieces and I'll play them; when I get good news I still play the piano," Duncan said. "It's just always there."
Duncan began playing the piano when he was 4 years old. Aside from a small stint of wanting to quit in his pre-teen years, Duncan has continued to make music. He said it was natural to major in music when he got to Baker because he spent his life playing.
"He just seems to be so much more into his music and knows what he wants to do with his life," said Linda Ballinger, member of the board of the Lumberyard Arts Center. "It's all about his music and he is just so dedicated to that."
Ballinger knows Duncan through the arts center. Zeta Chi fraternity holds the fundraising concert Polyeuphony annually, and after a suggestion from Duncan, the fraternity decided to donate the money to the local charity.
His work ethic and passion hasn't gone unnoticed. Next year, Duncan will travel to the University of Oxford, England, for graduate studies in global governance and diplomacy.
"Since the age of 9, I've always wanted to go to Oxford," Duncan said. "I've always just had that dream and it wasn't going to happen for (my undergraduate). So on a whim I, thought I would apply."
Attending Oxford won't be the first time he's studied overseas. Duncan said one of his favorite memories of Baker when he studied abroad at Harlaxton College, north of London.
His enthusiasm for Oxford isn't just about returning to Europe; he is eager to explore newer areas of interest.
"The program has a lot of classes that are oriented towards peace, and in the last two years that is something I've become really passionate about at Baker," Duncan said.
Despite the excitement surrounding Duncan's upcoming year in the United Kingdom, he isn't ready to say goodbye at graduation.
"This is so cliché but (what I'll miss) about Baker will be the people," Duncan said. "I've got really good friends here."