Flower grower supplies farmers market with color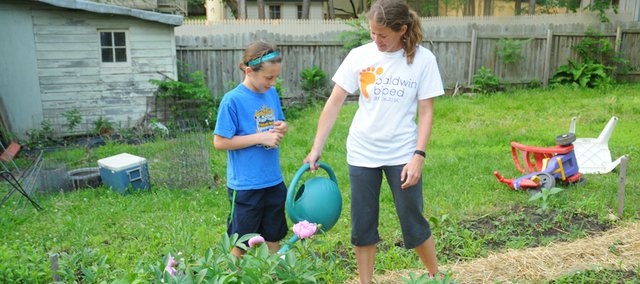 The plants that will produce the buckets of color Jill Boyle will bring this summer to the Baldwin City Farmers Market now grow in cold frames or poke inches above the ground in one of two flower gardens she tends.
With the blossoming of her annuals still weeks away, Boyle won't be among the vendors Saturday at the season-opening farmers market. Her target date is June 1 to start selling marigolds, sunflowers, zinnias and many other annuals she grows.
There's a lot of work before her flowers start returning her investment, but that's OK with the Boston Marathon qualifying runner who finds joy in the labor a seasonal garden requires.
"I like it because it's cyclical," she said. "There's a time to start seeds in the planter, and then when you make the first bouquets, that's fun, too. But I'd rather be in the garden working than making a corsage or boutonnière or something really small."
The next big project for her backyard garden and a larger plot on High Street south of the stadium is to get all the plants now in the cold frames into the ground, Boyle said.

"I'll do it the first day I don't teach all day," she said.
Boyle balances her flower business, Lady Bug Flowers, with her job as a library aide at Baldwin Elementary School Intermediate Center, where she started this year after being a part-time art teacher at the now-closed Vinland Elementary. She says she gets a lot of support from her husband, Brian, who helps cook meals for the couples' three children, Gus, 4, Jack, 7, and Josephine, 9.
The flower business grew from a job she took after graduating from Baker University with a studio arts degree.
"One of my part-time jobs after graduating from college was working at a flower farm," Boyle said. "When I started teaching, I continued, and I thought, 'I can do this.'
"The first year, I had four 8-by-16-foot flower beds. I went (to market) a couple of weekends and sold all I had."
That first year and the next, Boyle sold in Lawrence markets. She then started selling in Baldwin City and has been a summer regular at the farmers market for more than a decade.
"I made money in Lawrence, but the Baldwin market is just three blocks away," she said.
The local market offers another advantage.
"The Lawrence markets are known for their flowers, but I'm the only one selling here," she said. "There's several bakers and all the produce vendors during the summer, but I'm the only one with flowers."
Nonetheless, Boyle strives for quality in the flowers she sells at the market and those she provides for the weddings or family reunions she does each year.
As the lone flower vendor at the market, Boyle also enjoys an advantage in the bartering that occurs among vendors.
"I'll happily trade a bouquet for a watermelon or a dozen ears of corn," she said.