Baldwin seniors forge friendship on diamond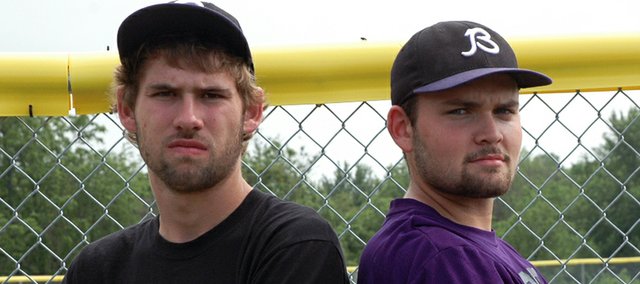 Baldwin High School seniors Tyler Brenn and Hunter Burkhart both like the outdoors. They enjoy hunting and fishing, but they also have something else in common.
"We were best friends ever since we met for a competitive (baseball) team in Lawrence, we hung out ever since then," Burkhart said.
The two have played baseball together for almost 10 years. Brenn is a third baseman for the Bulldogs, and Burkhart is the team's No. 1 pitcher. As they finish up their senior season on the field, they have to cherish the moments they've had as teammates and friends.
"Tyler's a great guy," Brenn said. "I'll miss him. We'll meet up for sure through college and everything though."
Burkhart said Brenn is the type of teammate and friend to always have his back.
"He's always there to pick you up when you're down and he always knows what to say when you're down in the dumps," Burkhart said.
The two seniors have played on Baldwin's varsity baseball team for the past four years, and in their final season, have helped to lead their younger teammates.
"They're solid, go-to-work guys," head coach Brian Turk said. "They show up every day, all the seniors, and push forward."
The team is filled with many freshman and sophomores, and Turk says Brenn and Burkhart help influence and encourage them to be stronger players.
"I put a lot of weight on them and it's hard sometimes when you're losing to keep having that push forward attitude, but they're doing a great job," Turk said.
Some of their favorite team memories include team dinners and spending every afternoon at practice with their friends.
"It's something that you never can really do again, but right now I don't think I realize how much I'll miss it," Burkhart said. "Once it is taken from me, I think I'll realize how much I really liked it."
Brenn and Burkhart will part ways after graduation, as Brenn will attend Johnson County Community College to pursue fire science and Burkhart will attend Pittsburg State University. Neither senior plans to play college ball. Not only will they miss the game, but the two think they'll miss being on a team together, too.
"It'll be different, but we all kind of knew it was coming to an end," Brenn said. "These four years have gone by quick."