Baldwin High School senior Tucker Brown finalist in national Google contest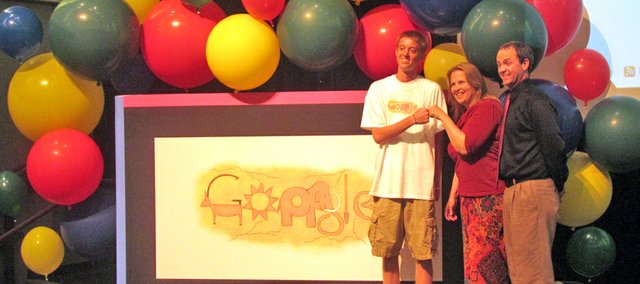 Tucker Brown is in the search to have his Google art put on display for millions to see.
On Wednesday, Google representatives visited Baldwin High School to announce Brown was one of the 50 state winners in its annual Doodle 4 Google competition. The Baldwin High School senior is one of the winners selected from more than 114,000 students who submitted entries this year. The artwork of Kansas' finalists will be exhibited at the Wichita Art Museum during the summer. All 50 state winners will have their doodle displayed in a special exhibit at the New York Public Library.
The annual nationwide competition, challenged K-12 students to design a Google logo inspired by the theme "If I could travel in time, I'd visit..." For our fifth year hosting Doodle 4 Google in the U.S., we wanted to give students a blank canvas and harness their curiosity to imagine the past, present, or future. This year's state winners are great examples of future artists, scientists, teachers, and more.
Starting today, the public will be able to vote for their favorite doodle from the 50 state winners and help select five national finalists (one per grade group). Voting started Tuesday and will continue through 7 p.m. May 10 on this site: http://www.google.com/doodle4google/vote.html. Google will then choose one national winner from the five national finalists selected by the public.
On May 17, 2012, all 50 state winners will be invited to an awards ceremony at Google's New York City office, where the national winner will be announced. The winning student's doodle will be displayed on the Google homepage on May 18, as well as on a special edition of Crayola's 64-box. Additionally, the champion doodler will take home a $30,000 college scholarship and a $50,000 technology grant for his/her school.