Former Baker punter chasing longshot
NFL

dream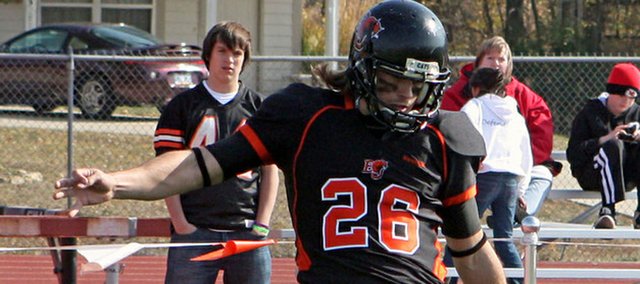 The pursuit of the dream has led to this. It has been three months since he moved away from his loved ones. Now in Arizona, he watches a Kansas City Royals spring training game to remind him of home.
The road is rough, but if Garrett Chumley is to realize his dream of becoming an NFL punter, it's the path he must take.
The Tonganoxie native and former Basehor-Linwood standout has spent his post-college life in camps training to become draft worthy in a position scarcely needed in the NFL.
"I don't think any kid grows up wanting to be the star punter," Chumley said.
But it has worked out for him so far.
Chumley graduated from Baker University in December and immediately moved to Arizona where he knew no one. He has been working out in pro development camps, one in Phoenix and the other in San Diego, with other punters who have the same goal.
It hasn't been entirely lonely, however. He has befriended other punters in camp, and they use each other as their own support system.
Chumley's family has visited and they use Skype to bridge the distance. He has never been more than 45 minutes from home for an extended period of time, so it has been an adjustment for all.
"That's what he needs to do to make his dreams come true," his mother Brenda Chumley said.
When Chumley started playing football in fifth grade, his team needed a punter.
The coach had everyone stand on the goal line and boot the ball as far as they could. The player with longest kick would serve as punter. Chumley won.
In high school, he was the starting punter as a sophomore and started on offense and defense as a junior.
Basehor-Linwood football coach Steve Hopkins had two impressions when he first saw Chumley: He punted left-footed even though he was right-handed and the ball exploded off his foot.
Even with the power, there was a natural ability to aim the punts out of bounds before they rolled into the end zone for a touchback.
"We played Mill Valley when they had some of the best athletes ever back then, and we gave him some real specific targets," Hopkins said. "In that game, we wanted to make them go 80 yards every time. All but one kickoff, we made them go more than 80 yards."
Coaches would then plant seeds in Chumley's head that he had a leg for the college game.
His college career didn't really take off until his sophomore year at Baker when he met teammate Derek Doerfler. An NFL scout came to see Doerfler at a practice, but Chumley caught the scout's eye. The next year, that scout called to talk about Chumley. As his popularity grew, others called to get game film.
"Those are the things along the way that motivate you, and that get it drilled into your head that you do have the skill set to make it at the next level," Chumley said.
Before the first game of the 2011 season at Baker, Chumley's grandfather, one of his biggest fans, died.
With a heavy heart, his first punt in the season opener against Ottawa was a gorgeous 57-yarder.
"That first punt set the tone for the whole season," Brenda Chumley said.
He averaged 39.8 yards per punt in his final season with longs of 64, 61 and 57 twice.
To everyone close to him, Chumley is a light-hearted guy who doesn't boast about his skills and he earns everything he gets through the determination his grandfather instilled. Once known as a skinny pretty boy, Chumley has devoted himself to the Basehor-Linwood weight room each summer, which is something most punters take for granted.
Darren Bennett, one of Chumley's pro development coaches and a former NFL punter, said he would be great in any locker room and his character has stood out in camp. Regardless of how he fares against other punters in camp, it won't be from lack of effort.
"He's not going to be outworked," Bennett said.
With thousands vying to make pro teams, the reality is that a punter from a small college in Kansas isn't going to be noticed over a Division I punter who regularly punts in front of 70,000-plus fans.
"That's kind of my downfall right now, my lack of exposure," Chumley said. "That's really what I've been working on since I've been down here."
It has been an uphill battle for Chumley because of his background, but going to these camps in front of NFL scouts is the best thing he can do to become more noticeable.
There are times, Chumley said, where guys in camp will face reality and accept a real-life job. All of the encouragement Chumley has received over the years mixed with his unyielding determination has prevented him from folding.
The results will be measured at the Las Vegas combine in April.
"When you come from somewhere that's not a well-known college, you have to have that 'wow' factor," Bennett said. "He's got to be able to blow people away in a tryout or a workout. Otherwise, he won't get seen."
His reverse-spinning left-footed punts won't make much of a difference in this level either, Bennett said. By the time you reach the NFL, players have seen every punt imaginable.
The best-case scenario is that he goes to Las Vegas, blows everyone away and gets selected in the draft.
But the chances of that happening are slim. There may be two or three punters drafted at best, throwing all the others into the free agent pool.
Brenda Chumley has encouraged her son to at least have a plan-B, such as obtaining his master's degree. Outside of football, Chumley has had an interest in being in the FBI or CIA and might be able to go down that path if the NFL doesn't work out.
Ask Chumley, and he doesn't have a concrete backup in place. It's not that he is unprepared, because he understands the risks. He isn't so blinded by his ambition that he has lost sight of the real world.
For now, he is a punter and must act as one.
"It's up in the air right now," he said.