Baldwin High baseball to battle tough league with young team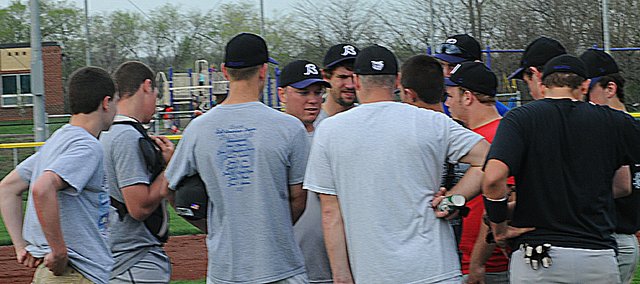 By Elvyn Jones
ejones@theworldco.info
As an engineer, Baldwin High School baseball coach Brian Turk understands numbers
The numbers tell him to temper expectations for improvement to the program he will lead for a second year with the knowledge he has a young team. There are more freshmen, 10, and sophomores, 13, on the team than the eight combined juniors and seniors.
Still, Turk is hopeful the team can be the start of the turnaround to a program that he said hasn't had a winning season since 2006 and finished 7-14 last year.
Any success will depend on senior leadership, Turk said. Right now, he has four seniors slated as starting position players and another designated as the No. 1 pitcher.
The senior position starters are Colton Bonner at first base, Will Simmons at shortstop, Tyler Brenn at third base and Alex Twombly in the outfield. Brenn is the only one among them who started games last year.
Turk now has senior Hunter Burkhart penciled in as No. 1 starting pitcher. He finished last year with two wins, 28 strikeouts and a 2.76 ERA. Backing him up are Brenn and sophomores Colton Stark and Brandon Mock.
The only other returning starters are outfielders junior Tyler Cawley and sophomore Colton Stark. Cawley batted .403, collected 10 RBI and scored 23 runs a year ago, and Stark batted .333 with 10 RBI and 13 runs scored. Both outfielders had an on-base percentage of more than .500.
Given the team's youth, Turk does not see it being a physically overpowering squad. He points to the success the Baldwin American Legion team had last summer playing small ball. That team was the first Baldwin City Legion team ever to qualify of the state tournament.
"We're going to be pretty balanced," Turk said. "We're not going to have one or two guys who carry us."
If the Bulldogs are to improve, they will have to do so in a very difficult league and against a schedule that gives them team no breaks early in the season.
The team opens today with a doubleheader today at home against De Soto, last year's Frontier League runner up, and then travels Tuesday to play defending league champion Ottawa. The first pitch for the first game both days will be 4:30 p.m.
Also looming in league play in last year's state runner up Spring Hill.
"The Frontier League will be really difficult again this year, and we will have to limit our mistakes and play fundamental baseball to compete," Turk said.