Baldwin High girls fall to Lawrence in program's inaugural soccer match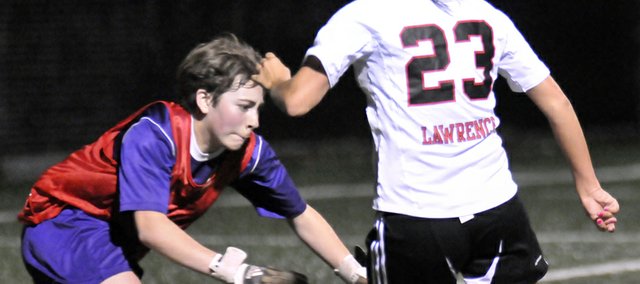 Lawrence — The Baldwin High School girls soccer team fell to the Lawrence Lions, 5-0, Tuesday in the first soccer match in program history.
Although the outcome of the game was a disappointment, Baldwin coach Erryn Kindle saw much to be pleased about in the loss to a 6A school.
"Everybody played hard," he said. "We competed.
"We were able to get shots on goal — some really good shots on goal. They just didn't go in."
Kindle said he also saw good things on defense, which faced a lot of pressure.
"Lawrence had a lot of corner kick opportunities," he said. "We did an amazing job of shutting them down on that."
Another positive was the fan support.
"We had an awesome fan base, students and parents," he said. "It looked like it outnumbered Lawrence."
The team's weakness was the lack of cohesion stemming from inexperience, Kindle said.
"We don't know each other as a team yet," he said. "We were only able to string together two or three passes, where we should be stringing together five or six.
"Communication and movement aren't quite there. A lot of it is just moving and knowing where your teammates will be. The more we play together, the better we will be."
In defeat, the Bulldogs gained the respect of Lawrence coach Janna Kepler.
"I give Baldwin a lot of credit, though, because this is their first season, and they came out and they hustled," she said.
Lawrence sophomore Addison Campbell scored on a free kick by freshman Karissa Aldrich, senior midfielder Meredith Warinner converted on a penalty kick and senior forward Laura Falkenstien put a rebound in the net to set up a 3-0 halftime advantage for LHS.
In the second half, Falkenstien scored her second goal in the 62nd minute, and junior Elizabeth Burney pushed the lead to five a little more than 10 minutes later.
Baldwin returned to action Wednesday with a match against Basehor-Linwood.
The team will play its first-ever home match Monday against De Soto. The junior varsity game starts at 4:30 p.m.