Baldwin City battle plans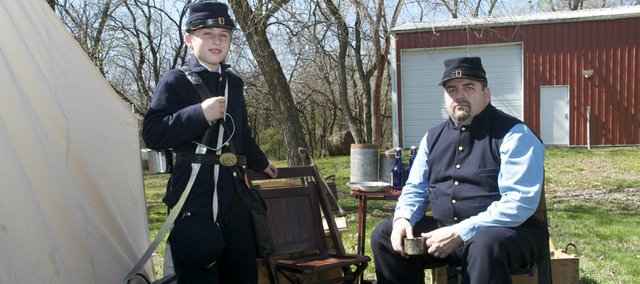 At age 13, Ryan Todd is preparing for his first battle.
He's not frightened, even though he knows he will be put in the midst of the action this weekend.
"I'll be at the Hornet's Nest," Ryan said Sunday, dressed for his role in the smallest blue wool trousers available at a Liberty, Mo., Civil War replica supply store he needs suspenders to wear. "I'm going to be a powder monkey for Battery B of the 3rd Kansas Light Artillery. I'll go to the caissons, take out powder and a cannon ball and take it to soldiers at the cannons."
Battery B is part of the Lawrence re-enactor group Sons of Union Veterans of the Civil War of which the Todds belong. This weekend, Ryan and his father Mike Todd of rural Baldwin City will be among those re-enacting the battle of Shiloh in recreations marking the 150th anniversary of the Civil War battle fought in southwestern Tennessee. In the last week, they purchased a reproduction Civil War campaign tent, uniforms and added to the regalia they will take to the re-enactment.
Ryan can give a complete accounting of the battle, from the Confederate surprise attack April 6 that caught Union soldiers off guard while eating breakfast, to the Union defense of what became known at the Hornet's Nest, to Gen. U.S. Grant's successful counterattack that forced Confederate troops from the field on the battle's second day.
"I love learning about this war and how it changed our country," Ryan said. "It affected everyone on both side. So many people lost their lives fighting for what they believed in.
"I got to go to Arlington Cemetery last year. There was this one area with thousands of gravestones from the Civil War. It really gave me an idea of what this war was."
Mike has encouraged his son in an interest he shares and one he picked up from his father Ron Todd, former Kansas insurance commissioner.
Part of their interest stems from their heritage. They know Mike's great-great-grandfather Daniel W. Brown, a distant relative of John Brown, fought in the Civil War for the Union and are researching an ancestor on Ryan's material side thought to have fought for the Confederacy.
Mike and Ryan have witnessed re-enactments at Gettysburg and lesser battles such at Pea Ridge in Arkansas, which marked its 150th anniversary last month. But Shiloh will be the first in which they participate.
They go to Tennessee knowing re-enactments recreate the sights and sounds of warfare but are orchestrated affairs where scripted actions eliminate the confusion of battle.
"They spend a lot of time focusing on the safety aspects of black powder," Mike said. "We'll muster and have training on the common organization of the battle."
Although he has yet to participate in his first re-enactment, Ryan is planning one of his own.
In January, Ryan gave a presentation to the state Sons of Union Veterans of the Civil War about his plan to organize a local living history and re-enactment. He swayed the organization to put his re-enactment on its 2012 event schedule and secured commitments from members and others to attend, including owners of two cannons in Battery B, a Confederate cavalry re-enactor from Missouri and the owner of an extensive collection of Civil War items.
Ryan's original idea was to have a re-enactment at the Todd's home west of Baldwin City, which sits astride the trail William Quantrill used to ride south out of Lawrence after his 1863 raid.
A desire to share his Civil War enthusiasm with his fellow students has Ryan looking at another option. Ryan and his father recently approached principals in the Baldwin school district about having the living history day April 13 at Baldwin Elementary School Primary Center.
He wants to give his fellow students a chance to experience Bloody Kansas and the Civil War in a direct way, Ryan said.
"It would be more than just reading about it in books," he said. "I want to get them all excited about the Civil War. I want them to be able to see a cannon firing. I want them to be able to pick things up from the Civil War and hold them in their hands."
Baldwin Junior High School Principal Tammy Thomasson said she just starting working with the Todds about the event. April 13 might not work because the school would be in the midst of state assessment tests, but she liked the idea.
"I know he's very enthusiastic about the Civil War," she said. "I thought it would be a great idea."
Mike said he would meet with principals of the Baldwin Elementary School Primary Center and Intermediate Center before he and Ryan left for Tennessee. He promised Ryan's re-enactment would go on somewhere no matter the outcome of that meeting.