Baldwin High School girls ready for first-ever soccer season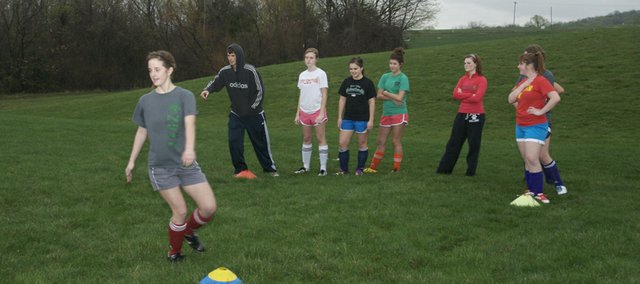 Erryn Kindle has many questions about his Baldwin High School girls soccer team in the first year of the Bulldog program, but he does know his team is excited to play.
Kindle has to look no farther than junior Kate Dixson to understand the level of commitment and eagerness those on the team have for the game. Dixson transferred from Eudora High School to have the opportunity to play soccer on a high school girls team.
"Soccer has been a big part of my family," she said. "All my family played it. I started in the little kids leagues, but I stopped for a while and then got back into it.
"I'm very excited to play on a girls team. I played on the co-ed team in Eudora, but the girls didn't get treated the same."
Starting a program does present challenges Baldwin High School activities director Gary Stevanus said. Scheduling games can be a problem, especially with De Soto and Ottawa the only other two teams in the seven-school Frontier League now offering girls soccer.
The result will be noticeable in the team's first game at 5:30 p.m. Tuesday at Lawrence High School. Stevanus said Baldwin was forced to schedule 5A and 6A schools such as Lawrence, Blue Valley North, Leavenworth and Emporia to fill the schedule.
Freshman center midfielder Sierra McKinney said she the bigger schools would not intimidate her. She guesses she has played against many of their players in the Overland Park club leagues she has played in since she was 6 years old.
McKinney said it could be a tough year because of the team's youth (there's only one senior on the team) and inexperience. But she said she had goals for the season.
"I want to see us improve and lay the groundwork for the next few years," she said.
McKinney shares Dixson's excitement about the chance to play on a girls team.
"I was going to be disappointed if there wasn't a girls team," she said. "Since I played club with girls, playing with boys would have been a different experience."
Kindle, who was the assistant boys coach at Eudora the last three years, said he doesn't know what to expect because he hasn't yet witnessed the quality of the opposition. The larger schools on the schedule like Lawrence could be expected to have better athletes because of their numbers, he said.
As for his style, Kindle said he starts with a strong defense and tries to use that strength to exploit opportunities on offense.
"We have a strong midfield," he said. "We should have a good shot at being on the attacking side of the field most of the game."
The team has good team size and should benefit from having players who played co-ed soccer in the past, Kindle said.
"They played against bigger people a lot bigger than them, so when size becomes a factor, we should have an advantage there," he said.