Baldwin City Council spends Take Charge Challenge winnings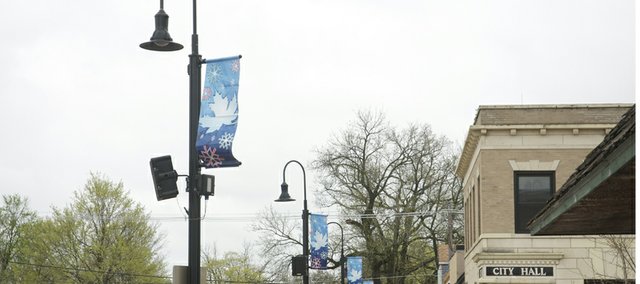 The $100,000 Baldwin City received for winning the Take Charge Challenge was hard to spend, the Baldwin City Council was told Monday.
City Administrator Chris Lowe and city energy manager Don Swartz presented the council with recommendations on how to spend the money and about $1,000 more, which the council approved Monday. The two men said it wasn't easy coming to those recommendations because of strings attached to the money and because they want to use the money in ways that would best cut energy costs.
The city received the $100,000 after winning an energy conservation and awareness competition that the Kansas Commerce Commission's State Energy Office sponsored last year.
The money will be used to put LED lights in downtown street lamps, place high-efficiency bulbs in city buildings, upgrade lighting at the USD 348 competition gymnasium and install a solar panel on the Baldwin City Chamber of Commerce building at Eighth and High streets.
It was thought early some of the money would be used to provide underwater lighting at the swimming pool and solar lighting at several flagpoles around town. The pool idea was abandoned because swimming pools are on a list of uses with golf courses and casinos that are not to receive dollars from the American Recovery and Reinvestment Act that funded the contest. The flagpole concept was rejected because no products could be found to satisfy an American-made stipulation.
The need to spend the money by an Aug. 1 deadline eliminated some other projects, Swartz said.
The council approved a plan to purchase 42 LED decorative lights downtown for $23,000 and 39 cobra-headed lights for $19,500.
"Street lights have much bigger value in terms of utility bills," Lowe said.0
The council also approved a bid from MC Electric Inc. for $21,655 to upgrade lighting in the school district's competition gymnasium on the junior high/high school campus. Swartz said the upgrade would produce twice as much light in the gym at half the cost.
The council awarded a contract of $3,000 to Cromwell Environmental Engineering to install the panels on the chamber building.
The remainder of the $101,000 approved would be spent to replace standard light bulbs in City Hall and other city facilities with high efficiency bulbs, Swartz said.