Community garden available in Baldwin City for second year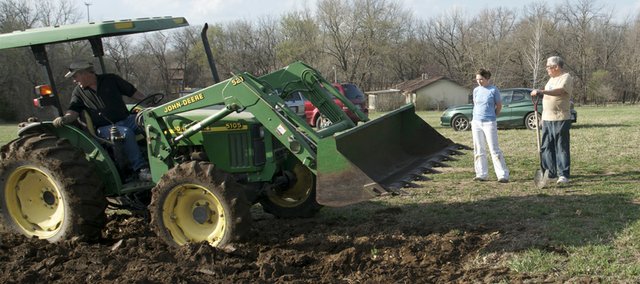 As a spring wind blew the smell of fresh plowed earth in his direction, Gary Sanden leaned on a shovel he was eager to put to work.
Sanden was watching Larry Jansen plow two plots in the community garden on Second Street north of Oakwood Cemetery. The retired Sanden, who has a doctorate in plant pathology, is planning to again plant peppers, tomatoes, green beans, red beets, okra, yellow squash and zucchini in his community garden plot as he did a year ago.

"I do this because it's good exercise and it's fun," he said. "I live in the Fire Tree 55-plus community. We don't have room for gardens."
It was for people like Sanden that the Baldwin City Business and Professional Women started sponsoring the community garden last year, said Tammi Zibell, BPW member and coordinator of the community garden. It was a situation she and her husband, Joey, shared.
"We always had a garden at home, but we wanted more room than we had there," she said. "BPW was looking for an acorn project, something that could start small and grow. I took this idea to them, and it was the project they chose."
As BPW approached the city to sign off for the use of the land, Zibell visited with those in the neighborhood about the garden and found them enthusiastic.
During its first year, nine individuals or families purchased plots in the community garden, but two moved before the end of the season, Zibell said.
"Most of the same people are back this year," she said. "We have 10 gardeners right now and three plots left in our original area, but we're adding another area this year."
Two plot sizes are available. Zibell said 10-by-50 foot plots can be purchased for $15 a season and 20-by-50-foot plots for $25. There is an extra $5 deposit fee for a key to unlock the water hydrant refunded at the end of the season if the key is turned in, she said. Later this month, a shed donated to the community garden will be moved to the site for storage of tools and other supplies, Zibell said.
Another perk is the use of compost Baker University Food Service Director Tanya Sieber provides, Zibell said.
Although technically not an organic garden, the community garden does limit the use of chemicals.
"We don't want people using sprays or chemicals that could be harmful to someone else's crop," Zibell said.
The garden plots are bounded by wooded draws on the south and west that harbor deer and other wildlife.
"The neighbors said we would probably have trouble with animals, but we didn't really notice any problems," Zibell said.
Despite last summer's heat and dry weather, most plots did well, Zibell said. She and her husband had good yields from the spinach, lettuce, tomatoes, potatoes, peppers, broccoli, carrots and green beans they planted.
"We had a really good producing year," she said. "In one of the plots where the people moved and couldn't continue on, we tried to start a pumpkin patch. But with the scorcher in July and August, it didn't produce. But everything else did well.
"This year, we want to take all our extra to the farmer's market and give all the proceeds back to the community garden."