High crude oil prices spur activity in local oil field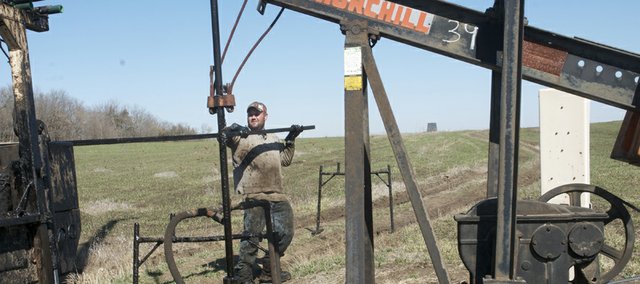 Of the 12 oil wells in view Friday morning from the top of a small hill east of Vinland, only six were bobbing up and down, pumping crude from a sandstone layer perhaps 600 feet below the surface.
In a wheat field below the hill, Bubba Crook was working to change that ratio as he pulled tubing from a well.
"Sometimes the tubing's cracked. Sometimes there's a problem with one of the ball and couplings," he said as worked on his second well of the morning.
An independent oil well service contractor, he's had a lot of work lately, Crook said.
"I'm getting wells back to work," he said. "Everybody wants some of that $100 barrel oil."
The same crude oil prices that are pushing gasoline at the pump past $3.50 a gallon are fueling good times in American oil fields. The small oil patch that bites into southeast Douglas County from neighboring Johnson, Franklin and Miami counties is no exception.
"There's lots of folks working in the area right now. People are having a hard time keeping up with the demand," said Lester Town, who works what he calls the Shoestring from Paola through Wellsville to Baldwin City.
Town, who got the oil business with his father in 1948, leases property on which he has drilled his own wells, including some near Baldwin City, and drills and services the wells of others.
What Town has been searching for all those years is oil trapped in sandstone deposits laid down about 300 million years ago as rivers dumped into an ancient sea. Over the millennia, heat and pressure converted dead organic material in surrounding rock to oil, which migrated to the more porous sandstone, where it was trapped by an overlaying layer of shale.
Since territorial days it was known there was oil below the surface in the four-county area because tar seeped to the surface and into creeks in Miami County.
Early exploration
The first to take a crack at drilling for the oil was Lawrence free-state newspaper editor and publisher George Brown. He traveled back to his native northwest Pennsylvania to see early oil drilling efforts in Titusville, Pa., where the first oil fortunes were made from supplying crude oil for the production of kerosene for lamps.
Teresa Bachman, executive director of the Kansas Oil Museum in El Dorado, said Brown put together a group of investors and in 1859 drilled three wells along Wea Creek in Miami County, the last of which produced traces of oil.
"They found a little dab of salty oil and then everything went on hold because of the Civil War," Bachman said. "That was less than a year after the first successful oil well in Pennsylvania. People don't realize how soon Kansas was in the oil business."
Brown's find was the first oil well west of the Mississippi and the first to tap into the huge Mid-Continent Field of Kansas, Oklahoma, Arkansas, Louisiana, Texas and New Mexico.
Another group of investors drilling near Brown's site successfully brought in a well producing eight barrels of oil a day in 1888, six years after a much larger oil strike was discovered in Neodesha to the south.
Other fields in the Kansas and elsewhere in the Mid-Continent Field would far eclipse production in the four-county area. According to the KU Kansas Geological Survey, Douglas County's 407 wells produced a total of 53,030 barrels in 2010, the last year for which complete data is available. That is about a third of the 158,529 barrels produced that same year in Johnson County, the largest producing of the four counties. By contrast, Ellis County produced more than 3.2 million barrels.
Nick Powell, president of Colt Energy Company of Overland Park, said all the wells in the four-county field were referred to as "stripper" wells by those who work the bigger more productive fields.
They are shallow with the deepest reaching about 900 feet below the surface and have production averaging less than a barrel a day, Powell said.
Constant search
Wells in newly discovered areas produce better, but once 15 to 20 percent of the oil below has been pumped, leaseholders have to inject water into the formation, which allows the recovery of another 15 to 20 percent of the oil, he said. The remaining 60 to 70 percent of the oil is so bonded to the rock it can't be recovered, Powell said.
That feeds the need for those in the industry to find new fields, Powell said.
"The minute a well starts to produce, production goes into decline," he said. "Every time the price of oil goes up and people have money, they go looking for oil."
Oilmen are looking and finding new oil-bearing formations now, Powell said. Modern reflective seismology methods aren't productive in the four-county area because reserves are too small to be detected, he said. Instead, drillers try to make educated guess where productive sandstone might be from knowledge of existing fields or searching for high geological structures in which the oil will pool, he said.
As the search goes on for new fields, higher prices are making it profitable to operate marginal wells, such as those Crook recently serviced. That effort also has been boosted by computer technology that provides information on individual wells.
"Right now, the oil patch is providing a lot of jobs," Town said. "A lot of folks out the construction industry are coming down. We get lots of applications every week."
The two men have been around long enough to know every boom ends and oil price declines tend to be faster and steeper than increases. Powell said he has been in the business since 1975 and has seen the price of oil drop to $10 a barrel in 1986 and 1998.
"If one guy sneezes, prices can go down $50 overnight," he said. "It's a real high-risk business. It takes some real entrepreneurs and risk takers. They go to bed at night, hoping they don't wake up in the morning finding there's been something to drop the price of oil back down again."
Meanwhile, both men expect oilmen to continue to explore for more oil in the four-county area and bring more wells back on line.
"It's been developed, but there's still quite a bit of oil coming out of it," Town said. "People are going back and re-drilling old wells. They're finding new stuff outside of old production.
"There will be a lot of drilling going on. I think it will continue. The world is going to need all the oil it can get."