Baldwin City Council members suggest City Hall top floor remodel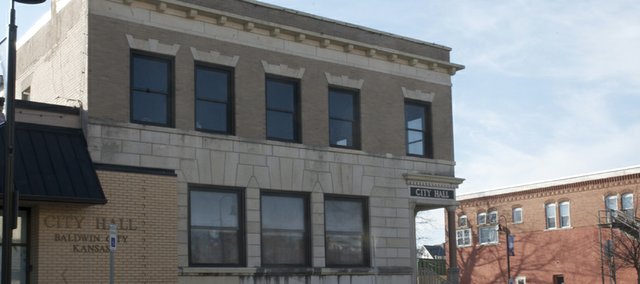 After touring the unused upstairs at City Hall, two Baldwin City Council members are suggesting it may be time to renovate the space.
Councilwoman Bonnie Plumberg told her fellow council members last month she and Councilman Shane Starkey toured the upper floor of City Hall. They found it a nice space and suggested it might be time to remodel the floor for a city council chamber and other uses.
City Administrator Chris Lowe said during a review of city capital projects, he found an informal list, which scheduled the City Hall upper floor renovation for 2011. His understanding and that of council members was that the project — which would have provided additional staff office space, storage and a council meeting room that would double as municipal court — wasn't completed because of the expense of installing an elevator. A requirement to make the upper floor compliant with the Americans with Disabilities Act, the elevator accounted for much of the $400,000 estimated cost of the remodel, council members said.

City public works director Bill Winegar said installing bathrooms would be another costly feature of the renovation.
The city has spent about $21,000 on the upper floor, gutting of the old interior, replacing windows and the hanging most of the sheetrock needed in a renovation.
Plumberg noted the renovation of the upper floor would put an end to the city's agreement with American Legion Post 228, which has the city leasing the post hall to the organization for $1 a year and then paying $1,200 annually to compensate the Legion for heat and power used during council meetings and municipal court dates.
There was also general agreement the America Legion space was inadequate for council meetings or municipal court. In addition to being a cold, dimly lit space with poor acoustics, it lacked technology features that forces the council to sometimes schedule meetings in the library so that computer-aided briefings could be presented to the council, Lowe said.
"I don't think there was anyone denying it wasn't a worthwhile project," the city administrator said of the upper floor renovation.
Lowe advised the council to consider the project with other proposed capital improvements at a retreat Mayor Ken Wagner has recommended but not yet scheduled.
"That is one (project) definitely worthy of consideration," he said.