Alumna sings praise of hometown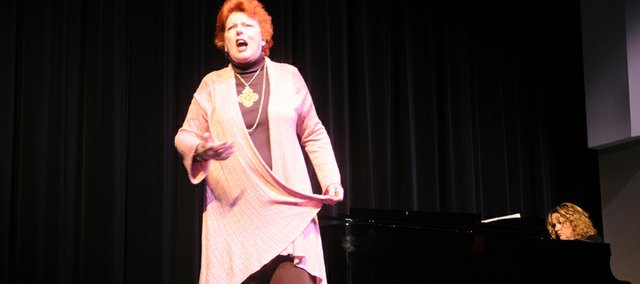 At Thursday's annual Baldwin Education Foundation luncheon, Joyce Castle paid homage in words and song to the family, friends and teachers who allowed her "to do her best."
Castle, who was a mezzo soprano for the New York City and Metropolitan operas for 39 years before returning to Kansas in 2004 to become a vocal music professor at Kansas University, was the distinguished alumna at this year's luncheon.
She told the audience, which included numerous childhood friends, of her parents George and Ethel Malicky. She was the child of a woman who wanted to be a music teacher but whose Nebraska family instead insisted she become a home economics teacher and a minor league baseball player. Her mother passed on her musical gift while her father shared the discipline learned in baseball.
"As a baseball player, he would always work out to get warmed up before a game," she said. "Before a concert, he would always ask me, 'Did you warm up?'"
She looked up to her older sister and brother, Neal and Georgann, Castle said. Her sister became a music teacher and her brother an academic who was a dean and interim president at Baker before becoming president of Baker-Wallace College in Ohio.
Her older sister let her tag along on a special trip to Kansas City to see her first opera, Castle said.
"I learned later Harry S. Truman was in the audience," she said. "I didn't notice. I remember the beautiful music of 'La Bohéme' my generous older sister took me to see."
As a student at Kansas University, her father would later conspire to have her sing for family friends when she returned home, Castle remembered.
"He'd say, 'Mother, why don't you make a pie,' Castle said, explaining that was a prelude to a social gathering at which she would sing to her mother's piano accompaniment. "That's what he wanted. I'm sorry Ruth and Don (Nutt) for getting you hooked into that."
There were 26 students in her Baldwin High School class of 1957, Castle said, remembering such family names as Nutt, Doudna, Ford, Willis and more.
She recalled teachers, too. She said math and Latin teacher Mary S. Martin imparted in her and others a passion for learning. Martin, she said, told students struggling with a math problem to put it under the bed or on the night stand at night as they went to sleep. It was a trick she later used when trying to learn the score of "Boris Godunov" in Russian.
"I took that score and put it under my bed," she said. "You think that's silly, putting those pieces of paper under my bed. The next morning, I knew that score."
She benefitted, too, from the presences of Baker University just a block from her childhood home and from the instruction she was able to acquire from university teachers, including Alice Anne (Callahan) Russell.
Before concluding with three songs — Tony Bennett's "Without a Song," the old standard "It Had to Be You" for her parents and "American Anthem" by New York City composer Gene Scheer — Castle quoted Babette's last line from "Babette's Feast:" Throughout the world sounds one long cry from the heart of the artist: Give me the chance to do my very best.
The line summed up what her Baldwin City childhood meant for her.
"My memories are great of the school system," she said. "I think you all gave me a chance to do my very best. I thank you all."