Kansas moves closer to ending ban on happy hour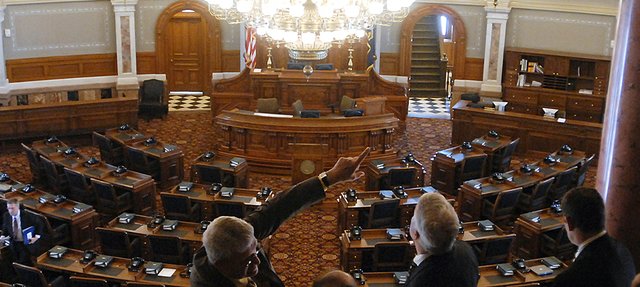 Topeka — Kansas is sometimes identified with Carrie Nation's saloon-smashing and imposed its own Prohibition for decades, but legislators moved closer Tuesday to quietly repealing the state's ban on happy hours at bars, taverns, clubs and restaurants.
The state House gave first-round approval to a bill repealing a law that prohibits businesses that sell alcoholic drinks from setting different prices at different times of the day. The voice vote advanced the measure to final action, which is scheduled for Wednesday.
The bill is likely to pass the House, and senators have already approved a separate, similar measure. Legislators are considering more than a dozen liquor bills this year to loosen state laws that dictate who can sell beer, wine and hard liquor and under what conditions. A House committee reviewed a proposal Tuesday that eventually would allow grocery and convenience stores to sell full-strength beer and wine.
The House advanced the happy hour bill without much debate, something that surprised some of its supporters, because the Legislature has a long history of vocal resistance from social conservatives to changes in liquor laws. Conservative Republicans have a majority in the House, but many of them saw the happy hour bill as promoting free-market, less-regulation principles.
"With a legal product in a free market, it's up to the establishments to set the price," said Rep. Steve Brunk, a Bel Aire Republican, chairman of the Federal and State Affairs Committee, which endorsed the measure and is considering other liquor bills this week.
Kansas voters adopted a Prohibition amendment to the state constitution in 1880 and didn't repeal it until 1948, 15 years after national Prohibition had ended. Resistance to the state's no-alcohol policy inspired Nation to wield a hatchet against saloons.
Even after its Prohibition ended, Kansas remained known for its conservative liquor laws, limiting the sale of liquor by the drink to private clubs until 1987. Grocery and convenience stores still can sell only lower-strength, or "weak" beer and no wine or liquor.
The ban on happy hour dates to 1985. Philip Bradley, a lobbyist who represents bars, hotels, motels and caterers serving alcohol, said the lawmakers who enacted it were well-intentioned and worried about encouraging alcohol abuse.
"It would stop people from over-consumption and get rid of cheap alcohol," Bradley said. "It just didn't work."
The law doesn't prevent businesses from having the same discounted price for drinks all day, but Bradley said legislators assumed in 1985 that no merchant would do that.
Business owners proved them wrong — running drink specials all day long in what supporters of the bill called "happy days." The bill still would ban the sale of drinks below their cost to the merchant.
"This is actually more responsible than our current practice," said Rep. John Rubin, a Shawnee Republican.
Other bills before Brunk's committee would allow alcoholic drinks to be served on railroad cars; permit liquor stores to have beer, wine and liquor tastings; allow small distilleries to sell their products and offer samples; and repeal a law that says people can't have a job serving alcohol if they've been convicted on a "morals charge."
The measure that would move the state toward allowing grocery and convenience stores to sell full-strength beer and wine is before another committee and is likely to have a tougher time passing. It pits large retail chains against liquor store owners, who've so far succeeded in blocking changes.