Easement acquisition issues delay start of 6th Street project in Baldwin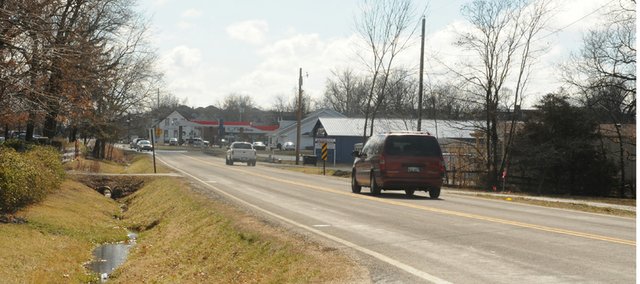 The start of a major reconstruction of North Sixth Street that was supposed to start this month has been postponed until late April.
Douglas County Public Works director Keith Browning said the project was delayed because of driveway easement acquisition issues. Bid advertisements did start earlier last week, and bids would be opened in late March, he said.
Browning now expects work on the project to start in late April, once the selected contractor has needed bonds and paperwork in place.
"We are stipulating the road be open to traffic by Thanksgiving," he said. "There likely will be still be some work to be done in early 2013, but the road will be open to traffic."
Work to relocate utilities along the route has already started, Browning said.
The city and county are splitting the cost of the project with an engineer's estimate of $4.3 million. Both are putting up $1.9 million to add a middle turn lane and curb and guttering to the section of Sixth Street from U.S. Highway 56 north to Douglas County Route 12. The city will also spend an estimated $400,000 for five-foot sidewalks on the east and west sides of the road. If bids come in low enough, the east sidewalk will be upgraded to a 10-foot-wide multi-use sidewalk.
The project will be completed in three phases. To lessen the consequences to businesses along the street, the section from U.S. 56 to Fire Tree Avenue will be phase 1 and must be completed before the contractor can move on to phase 2 work, Browning said.
"They have to have it totally complete — that includes the intersection at (U.S.) 56 — before they can move on," he said. "There will be a new traffic light at 56. The current one will stay in place when they move on, but all the roadwork and sidewalks will be finished before they move to phase 2."
Phase 2 will complete the improvements north to where North 400 Road heads west, and phase 3 with make the upgrades from that point to Douglas County Route 12.
"It's going to be a major inconvenience for everybody, but it will be a very significant improvement when it is done," Browning said.
It will be particularly inconvenient to the seven businesses with access along the section of Sixth Street to be improved.
Bob Pringle, owner of NAPA Auto Parts as 151 N. Sixth St, and Bonnie Plumberg, owner of the Pink Lady Consignment Shop at 215 N Sixth Street, own two of the three businesses that can be accessed only from Sixth Street.
Pringle said he had not seen details but had been assured access to his business would be maintained throughout the project. That was a necessity, he said, not only for customers but also for fire and emergency medical services and weeknight truck deliveries.
Plumberg said access to her store would be available from Arrowhead Hardware to the north, but she, too, had not seen final details. She said businesses had also been assured there would be signage informing customers of how to get to the businesses.
Final access details were still being worked out, said Baldwin City Mayor Ken Wager. But he said the city was committed to assurances made to business owners at individual meetings that their establishments would be accessible through temporary driveways, roadways or other means.
Plumberg, a Baldwin City Council member who supports the upgrades, and Pringle, who thinks there are cheaper solutions to future traffic concerns on North Six Street, agree on one thing. Their businesses will see fewer customers during the project's first phase no matter what access solutions the city develops, they said.
For the most part in recent years, public projects have enjoyed lower than expected bids as contractors sought work in a down economy. However, Browning said two of the three bids for one of the county's recent projects came in higher than the engineer's estimate, perhaps a sign of things to come in an improving economy.
"They may be starting to creep up," he said. "This will be an interesting one. It's a nice season-long project. I'm very hopeful, it will attract good bids."