Couple donates $1.6 million for Baker University's Mulvane Project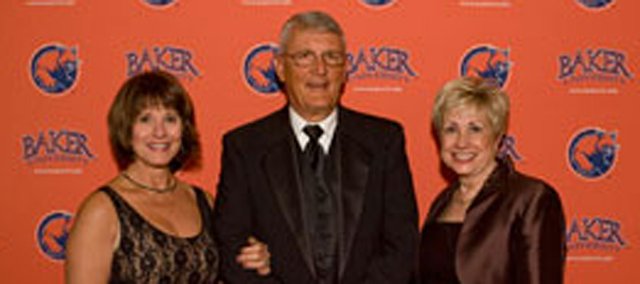 Longtime supporters of Baker University, alumnus Ross Hartley and his wife, Christine Hartley, of Jackson Hole, Wyo., have a history of generously contributing to Baker University.
At Baker's annual Scholarship Gala and Auction on March 3 in Overland Park, Baker President Pat Long announced that the couple has donated $1.6 million toward the Ivan Boyd Center for Collaborative Science Education on the Baldwin City campus. It was also proclaimed that the 9,000-square-foot addition to Mulvane Hall would be named Ross and Christine Hartley Hall.
"We are blessed that Ross and Christine Hartley are passionate about Baker University and continue to support our students and faculty," Long said. "They strongly believe in the $10.3 million transformation of Mulvane, essential to prepare the next generation of scientists. Their continued support will allow us to enhance our classrooms and labs."
As a student, Ross took several mathematics and science courses at Mulvane Hall. Ross enjoyed a successful career working with the family independent insurance company and co-founding NIC Inc., a leading provider of electronic government services in the United States.
"We enjoy giving back to the university," said Ross, who earned a bachelor's degree from Baker in 1970. "We believe anybody who gives philanthropically always discovers that they are the ones who gain the most pleasure, even more than the recipient."
The existing Mulvane building, greenhouse and Hartley Hall will form the Ivan Boyd Center for Collaborative Science Education.
"We have seen great improvement and strides in the appearance of campus during Dr. Pat Long's tenure," Christine said. "The beauty of the campus is very welcoming to students and parents when they arrive. We think giving to the project is a great opportunity that will enhance student and career opportunities in math and sciences, which is the direction all leaders say we need to go in higher education.
"Baker is not standing still. It continues to grow. Pat and the Baker staff take pride in the campus, and we are thrilled to support Mulvane Hall."
The university is close to reaching its goal of funding the entire $10.3 million Mulvane Transformation project. The largest fundraising campaign in Baker's history, the project is the first ever to be funded entirely through the generosity of alumni and friends of the University.

"Our continued fundraising efforts will ensure that we are able to provide state-of-the-art equipment and technology while improving the overall design of the building," Long said.