Baldwin High School Real World Design Team tops in state again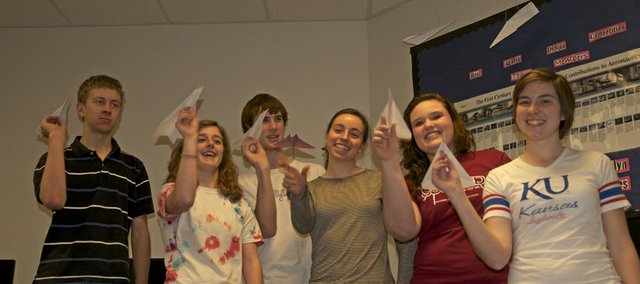 TOPEKA— Kansas Gov. Sam Brownback announced today students from Baldwin High School, USD 348 Baldwin City, were the winners of the 2012 Kansas Real World Design Challenge. The team will go on to represent Kansas in the national competition April 20-23 at the Smithsonian Air and Space Museum in Washington, D.C.
"It gives me great pride to recognize these students for their significant achievement in addressing the Real World Design Challenge. I commend them for their ingenuity and hard work in developing an efficient and environmentally friendly light sport aircraft," Gov. Brownback said. "This challenge is an excellent opportunity for Kansas students to learn and demonstrate the collaboration and problem-solving skills that will be critical in our global economy."
The Baldwin High School team beat out five other schools to win the state competition this year. This is the fourth consecutive year the Baldwin High School team has won the state competition. The past two years the team has placed in the national competition, taking home the National Championship in 2010 and third place in 2011. The members of the winning team are:
· Kaitlyn Barnes, grade 11
· Abby Clem, grade 11
· Carrie Deitz, grade 11
· Quint Heinecke, grade 9
· Mackenzie Johnson, grade 11
· Austin Kraus, grade 11
The team's coach is Pam Davis and their mentors are Sandy Barnes, Ottawa; Mark Beyer, Wichita; Dr. Brandon Buerge, Newton; and Chris Hedden, Lawrence.
The RWDC is an annual competition that provides high school students grades 9-12 the opportunity to work on real world engineering challenges in a team environment. Each year, the teams are asked to address a challenge confronting the aviation industry. This year's challenge was to design an efficient, low-carbon-emission and environmentally friendly personal light sport aircraft that could accommodate two team members and fly 200 miles in less than two hours at a cruise altitude of 1,000 feet above ground level minimum.