Baldwin board not interested in contractual bus service proposal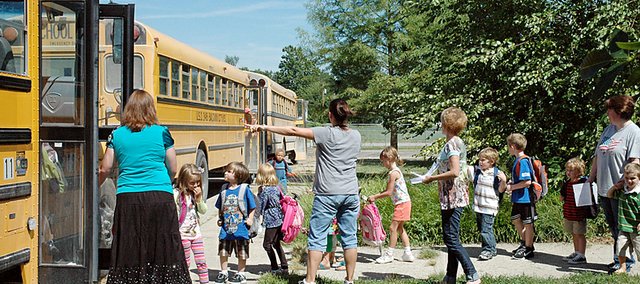 The Baldwin school board passed on a proposal to contract with an outside transportation provider after district staffers determined such a move would not save the district any money.
Apple Bus Service was invited to submit a proposal after approaching the district earlier this year. The Missouri company provides bus service to a number of school districts that are Baldwin's size, including Garnett, Osawatomie and Spring Hill.
Apple would have provided bus service for $502,435 for the 2012-2013 school year. The company also would have purchased the district's buses for $278,500. That money would have been deposited in the district's capital outlay fund.
Tracy Rockers, district transportation director, said the district spent $409,976 last year for bus service, or $92,450 less than Apple's proposal. Of the district's cost, $265,000 was for salaries and $80,000 for bus replacement.
It was noted, however, that it was proposed the district spend $180,000 on bus replacement next year and for at least the three succeeding years to upgrade its aging fleet. That would make the Apple proposal "a wash," board member Sandy Chapman said.
Superintendent Paul Dorathy cautioned there would be on budgetary change should the district contract with an outside provider. Under a contractual arrangement, the district's general fund would support the entire transportation budget. Currently, the district splits its transportation cost between the general fund and capital outlay fund.
The superintendent noted the state puts limits on the general fund mill levy. More support for transportation would require a reduction in support for other programs.
Rockers said Apple hadn't guaranteed positions for the district's current staff. The company had different hiring criteria from the district with a Kansas Department of Transportation physical being a focus, she said.
Board members also noted that should the bus fleet be sold, the district could not afford to resume offering bus service.
Ande Parks, board president, said contractual service could be revisited and he agreed with Dorathy that should the board consider such a move it should invite all interested providers to submit proposals.
Representatives from one such company, First Student, attended Monday's meeting. Michael Shedor, area general manager for the company, said First Student might be able to save the district "hidden" cost not itemized in Rockers' findings, citing worker's compensation as an example.
Shedor added the company always attempted to hire current drivers and staff when it took over a school district's bus service because they were from the area and knew routes.