Brutal week predicted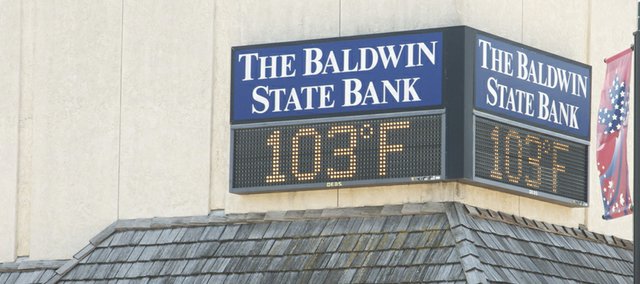 In the Monday morning race on local bank time and temperature displays to see if temperatures would hit triple digits before the clock struck noon, temperatures won.
And temperatures didn't stop there. The bank displays would read 105 before the heat started to ease later in the afternoon.
The brutal heat was enough for the Kansas Department of Health and Environment to urge Kansans to stay indoors and keep cool after the National Weather Service issued a Heat Advisory for Baldwin and other parts of Kansas. The advisory will probably be repeated with temperatures predicted to climb above 100 Wednesday and Thursday.
A Heat Advisory is issued when the temperature and humidity combine to create a heat index of 105 degrees or higher.
Bill Gargan, meteorologist for the National Weather Service in Topeka, said Tuesday looks as if it will cool down to 97 degrees and the NWS will likely forego a heat advisory.
Despite Tuesday's slightly cooler weather, Wednesday and Thursday temperatures are estimated to reach at least 101 degrees.
The heat will continue Friday with a 100 degree high. A 20-percent chance of showers and thunderstorms Saturday will lower the temperature to a high of 95 degrees. The high Sunday is expected to be 93.
The extreme weather poses risk of a heat-related injury or illness.
Kansas State Climatologist Mary Knapp said one of the biggest problems for the week will be the humidity levels in the area and the warm temperatures overnight.
"The dangerous factor is going to be that those nighttime temperatures are going to stay high," Knapp said. "The body doesn't get the chance to cool off overnight."
Other effects of high heat include heat rash, sunburn, heat cramps, heat exhaustion and heat stroke.
The KDHE said people should pay attention to co-workers, friends and family for signs of any of these illnesses, especially in elderly people, infants, children and people with chronic medical conditions.
To avoid injury and illness, people should wear sunscreen while outside, avoid strenuous activity, drink cool, nonalcoholic beverages, especially water, and stay inside as much as possible. If planning on being outdoors, people should avoid it during the hottest time of day, which is normally between 2 p.m. and 4 p.m.
Knapp suggested for those who jog or run to do so early in the morning when it's coolest. If bringing a pet on a run, be aware of the ground temperature because the pavement can be hot and burn their paws. If a pet spends a lot of time outdoors, be sure they have water, shade and a way to cool off.
For more information on keeping safe in extreme heat visit http://www.kdheks.gov/beh/extreme_heat.htm