Baldwin food program started to fill summer gap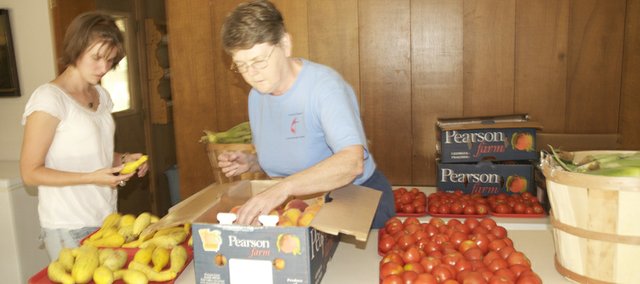 As she helped Joan Toot sort food Monday in the fellowship hall of Ives Chapel United Methodist Church, Jennifer Rolland said she didn't know what to expect in the hours ahead except she would be busy.
Rolland and Toot were preparing for the fourth weekly distribution of the children's lunch program, providing bags of food to families to help ensure the community's children had a healthy lunch during the summer.
"I'm going for 80," Rolland said, when asked to estimate how many children would be served Monday. "We've doubled every week."
Toot, chair of the church's missions committee, said the program will continue from 6 p.m. to 8 p.m. each Monday through Aug. 14.
"We started the first week with just one family," Toot said. "The third Monday, we had families with a total of 40 children. We anticipate it will keep growing as word gets out."
Each bag contains enough food to prepare lunch for one child for five days.
"It's to fill the gap when there is no school lunch program," Toot said. "But it's not restricted to school-aged children. It's for families with smaller children if they feel like they are having trouble providing nutritious lunches for their children."
Although the program is operated by the church, Toot said, it's meant for all children in Baldwin City.
"Everyone is welcome," she said. "We've received donations from various churches and philanthropic groups."
Toot said the food in the bags met federal nutrition guidelines.
"It's one of the things we discussed," she said. "We didn't want to give out Pop Tarts and other sugary foods or imitation cheese, but good nutritious food.
"We've been able to do that. We're able to give out a lot of fresh fruit and produce."
Much of the fruit and vegetables are from Voigt's Produce where an Ives Chapel member picks up a large amount of fruit each Sunday, Toot said.
Donations for the program can be sent to: Ives Chapel United Methodist Church, 1018 Miami St. Baldwin City 66006.