Council envisions elite bedroom community, business park in Baldwin City's future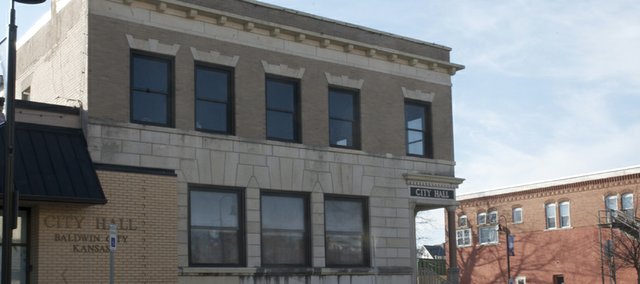 At the conclusion of their second visioning workshop Tuesday, Baldwin City Council members foresaw the city of the near future being the best bedroom community possible and one that has a new business park.
The council had its first visioning workshop last month at a Valley Falls retreat with the help of John Devine, a former Salina City Council member who now works as a facilitator and economic development consultant. The effort continued Monday with a 90-minute workshop before the council's regular meeting.
In an attempt to learn what council members wanted for Baldwin City, Devine asked them to envision the city in 2020 and consider what needed to be in place to move toward that vision.
The need for a new business park dominated Monday's discussion. It was needed, council members said, to expand the city's tax base, increase stability of the local economy, add new rooftops and retain businesses and young hometown professionals.
With the advantages so obvious, Councilwoman Bonnie Plumberg wondered why the council hadn't done more to make a new business park happen after receiving a May 2011 report from BG Consultants, Inc.
A partnership with Douglas County was essential to making progress, Plumberg said. She wondered if the county's past expressed willingness to partner on a project was still there despite the city's lack of progress.
The BG Consultants report identified two possible sites for a new business park: The 40.2-acre Rockers parcel north of U.S. Highway 56 at the High Street intersection and the 46.1-acre Barrett parcel north of U.S. 56 north of the Heritage Addition. The study estimated the cost of bringing infrastructure to the Rockers property at $950,000 and $790,000 to the Barrett parcel.
Devine and Baldwin City Administrator Chris Lowe cautioned there were risks with moving forward without doing the proper groundwork. If the kinds of businesses that would be interested in the park were not known, the city — which would not have a full-time position dedicated to marketing the park — could spend millions to purchase land and extend utilities and infrastructure to a new park only to see it sit empty, Lowe said.
The city administrator also cautioned the current competitive environment has cities giving new businesses 100 percent property tax abatements for years. He said the council couldn't expect a business park to provide an immediate, direct bump to the city's property valuation. Benefits to city revenues would come from sales taxes and from new homes employees built in the community, he said.
Devine said the council could make progress on the park through a step-by-step process, which included:
• A marketing study centering on the kinds of tenants a park could realistically hope to attract to Baldwin City and identifying competition in the region.
• A comprehensive study of the cost to buy land and extend infrastructure to the site.
• An incentive plan, which would consider such things as property tax abatements, utility rate breaks and free land.
• A feasibility study of a park's benefits.
Devine added there were ways other than manufacturing in which Baldwin City could be successful through marketing and investing resources. They were:
• A bedroom community, which attracted new residents for its high quality of life.
• A tourism destination community taking advantage of the area's history.
• An arts and cultural center.
• A retail center.
Although it was agreed the community's already strong historical and cultural activities offered opportunities, it was the consensus Baldwin City was best defined as a bedroom community.
"I guess what we can sell is a small-town lifestyle," Lowe said. "We can sell small-town living, but we have to do it in a very high level."
To do that would require first-class facilities, which brought discussion back to enhancing revenue. Councilman Shane Starkey said that meant attracting new companies with a business park despite the need to provide incentives.
"If we don't have anything to give away, we give away opportunities," he said.
The council will discuss the park again at its next visioning work session, scheduled for July 16.