Baldwin City once again to have Fourth of July community fireworks show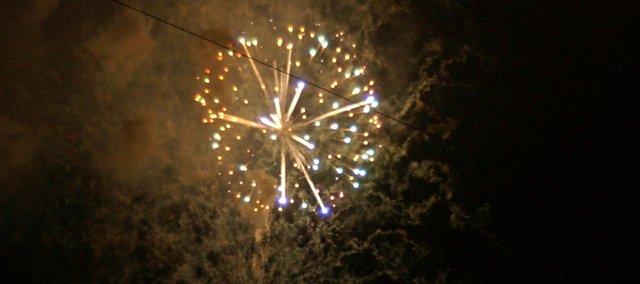 After a two-year absence, Baldwin City will have a community Fourth of July fireworks show this year.
Earlier this month, the Baldwin City Council approved a $5,000 expenditure for a show. The fireworks display, which will start about 9:30 p.m. to 9:45 p.m. July 4, will be at the Baldwin school district's west or elementary school campus.
Steve Friend, Baldwin City parks and recreation director, said the display was cancelled the past two years because of a shortage in donations and lack of volunteers to set up and clean up.
He said the council's action was meant to prime the pump for future shows.
"They are not going to do this every year," Friend said. "If the community wants the fireworks display to continue, they have from now until May 31 (2013) to give money to keep it going."
Friend said he would approach community organizations about contributing to next year's show.
The $5,000 should provide a 30- to 35-minute show, Friend said.
"It should be a very active show," he said. "That's twice what we've had since I've been around."
Fireworks shooter David Deel of Lawrence is helping make the money stretch, Friend said. Shooters traditionally ask for compensation equal to 14 percent of the cost of the show, but Deel, who has relatives in Baldwin City, is providing his services for free because he wants the community to have a show.
The fireworks will be set off from the hill west of the Baldwin Elementary School Intermediate Center, Friend said.
"I think it's going to be good for the whole town, since it's higher there and more visible around town," he said.
Those attending will be encouraged to park in the parking lots of both elementary schools. Friend said the recreation commission will have a concession stand with proceeds donated to next year's show, and the commission will organize children's games before the show.
Fire is always a concern at fireworks shows and more so with the current dry conditions. Two fire trucks will be on hand, Friend said. He added the hill has been "pretty much mowed down already."