Area angler joins the elites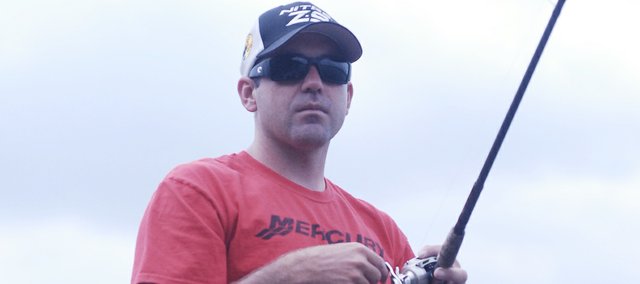 LONE STAR — The fish play hard to get at first on this windswept late spring day, one of at least 200 that Casey Scanlon will spend on a lake this year.
Today it's Lone Star Lake in southwest Douglas County where the 28-year-old Lenexa resident and Kansas University alum will fish to tune up for June's three Bassmaster Elite Series tournaments — the first of which was fished over the weekend at Toledo Bend in Many, La.
"There have been some giants caught here," he says, speaking of the muscle-bound freshwater sport fish, around which an entire sport is built.
Word's gotten out over the years, though, he said, and the increased fishing pressure has made it tougher to find that trophy catch here.
Still, by the end of the day he'll pull in nearly a dozen largemouth bass, at least half of them worthy of a cell phone photo for most anglers. Scanlon will land fish all over the lake, using a handful of different lures, beckoning the fish in whilst at the front of his 2012 Nitro Z-9 bass boat.
That boat and the 2012 Toyota Tundra he uses to tow it are wrapped with a radiant orange, yellow and red film that glows like the sun and is adorned with his name and sponsors. Like the sun, it stands out on an otherwise uniform spectrum — be it the dark blue-green surface of a lake or the highway on which he travels to get there.
Cars speed up to honk and wave. Children run up to ask for autographs, noting Scanlon's Bass Pro Shops decal. And men older than him approach on the water and talk about how they're also on the circuit, how their wrap is being placed on another boat, too, but it's still in the shop for a few more days. Scanlon will quietly listen while he casts toward the shoreline, a wry smile forming that says he's heard this before — about how the man is also using Lone Star Lake as a tune-up for a tournament that weekend both he and Scanlon know isn't happening.
The boat and truck that looks like a NASCAR and draws the attention of boys and men alike may not speak to Scanlon's laid-back personality, but he has little choice.
He's a Bassmaster now.
•••
It wasn't long ago that Scanlon was a 12-year-old boy who had saved up birthday and lawn-mowing money to buy his first vessel, a $200 jon boat. His dad would tie the boat to the top of his Chrysler and drop Scanlon off at Shawnee Mission Park Lake. The lake, alongside Mill Creek, which ran behind his childhood home, became where Scanlon would pass much of his free time.
At first he angled for bluegill, catfish … shoot, anything that would give him a fight. Soon, he'd have his best fight yet.
Its species known for tenacity, an 18-inch largemouth found itself at the end of Scanlon's line one day, inconveniencing itself for a moment while setting in motion the transition from pastime to living for Scanlon.
"Once I got a taste," he said, "I was pretty much hooked instantly."
At 15, Scanlon convinced a local fishing club to make an exception to its age-restricted bylaws and allow him to compete. In his first tournament, as a co-angler, Scanlon was victorious.
Before long, he sold the jon boat and purchased an upgrade, spending the summer building a deck with a livewell in it.
On Saturdays, Scanlon was glued to television fishing shows, notebook in hand. High school baseball became a casualty in the pursuit of more time on the water. And each year or two would bring about an upgrade in horsepower — Scanlon's up to 250 now.
By the time Scanlon reached Kansas University, he chose to major in communications, a decision, like most of his pivotal choices, made with fishing in mind. Communications, Scanlon reasoned, would allow him to hone his speaking skills and "represent my sport and my sponsors most effectively."
At KU, he roomed with a few friends next to a local bar, where people- watching entertained on weekends. But every year, come late spring, he'd disappear until early fall.
Scanlon continued tournament fishing after college, starting a landscaping company — so he could make his own schedule — and relying on tournament winnings to cover the entry fees of the next event. In addition to seeking sponsorships, Scanlon still puts the boats he wins — he's earned three thus far, valued at up to $45,000 each — for sale online.
At 26, Scanlon fished his first tournament under the banner of the sport's preeminent governing body, B.A.S.S. It was a Central Open event at Lake Lewisville in Texas. Success again presented itself early, as Scanlon placed second, finishing just one pound shy of first place and nearly qualifying for the annual Bassmaster Classic on his first attempt.
By the end of Scanlon's Central Open run, he found himself in sixth place in the standings, one spot out from qualifying for the Elite Series, the highest level of tournament competition. But Scanlon caught a break when the angler ahead of him declined the invitation, giving Scanlon the final berth on the big stage, which receives coverage on ESPN2.
Then, this April, Scanlon won his first Open event, at Table Rock Lake in Branson, Mo. His 49.4-pound finish accomplished what he just barely missed out on in his first B.A.S.S. tournament: qualifying for the Feb. 2013 Bassmaster Classic.
Some rookie season.
•••
Scanlon entered the final day of that tournament in fourth place, using a Strike King 6XD chartreuse Sexy Shad crank bait to reel in the day's second-heaviest total and vault himself to first place.
But it takes little time to realize that what may work one day doesn't guarantee success on another. Not even hours of fishing shows or volumes of guidebooks can replace time on the water.
"These fish don't always read the same books we do," Scanlon said.
One little change makes all the difference, he continued, dunking a crank bait in front of Lone Star Lake's dam. Before fishing a new spot, he'll study old fishing reports and navigate Google Earth images of the body of water until he can finally take off in his Nitro.
Scanlon knows the nuances of his craft and has the latest equipment, from a pair of shallow-water anchors to keep still on windy days to fish finders that meticulously detail the depth, vegetation, temperatures, baitfish and their pursuers — all in views from straight down to that of the boat's periphery.
But what makes the difference, Scanlon said, is an ability to read the water better than the average weekend warrior. The water's color can determine what color of lure will be most effective; schools of baitfish can provide a glimpse at what the fish are eating. Pieces of cover and brush are also hot spots.
"They're opportunistic," Scanlon said. "Like if you're in your living room, you're going to sit on the couch, not stand in the middle of the room."
On the front bed of Scanlon's boat a half dozen fishing poles bake in the sun, each outfitted with different lines and lures from which Scanlon will alternate to send his bait to varying degrees of depth. When he pulls a fish out of the water, like the bass that later assaults his top-water rubber frog along the bank of a western cove, he hangs around to see what else lurks beneath. Oftentimes, he said, anglers won't realize just how many bass can be found in one area.
Scanlon continues to test the bank with his frog, a BOOYAH Pad Crasher, which he pops along the surface, taunting what he hopes will be a hungry giant.
Soon enough, there's a splash.
"Holy cow!" Scanlon says, "I see that bass. That fish back there pretty much told us we want to stay here."
It's a game. And like any sport it is won with strategy and technique. Like guiding a frog along a still surface near the bank, or sending a crank bait into the wind, where it will, with hope, meet an opportunistic bass waiting for the current to bring it lunch.
"You just go out and look for clues and hope they tell you something," Scanlon said.
•••
At the Toledo Bend battle, the fifth of eight Elite Series events this year, Scanlon didn't have his best showing, placing 79th with a total of 16.8 pounds of fish caught.
Scanlon's first Elite Series appearance, a 45th-place, 31.9-pound performance, has still been his best and netted him $10,000 in winnings.
On Sunday, Brent Chapman, an angler 12 years Scanlon's senior and himself an alum of Shawnee Mission North, would win his first Elite Series tournament with a commanding 83.3-pound haul. A Lake Quivira resident, Chapman has fished nearly 200 tournaments with four first-place finishes and 28 top-10 appearances. The Elite Series win, just one month shy of his 40th birthday, added another milestone to a career that has seen Chapman bring in more than $1.3 million in tournament winnings.
In February, Chapman — now in the lead of the Bassmaster Angler of the Year points race — will fish his 12th Classic while Scanlon makes his debut in the event, which will be fished at Shreveport, La.'s Red River.
His first full year still in progress, Scanlon's 10 B.A.S.S. tournaments have so far produced one first-place finish and three top-10s with more than $86,000 in earnings. It's an impressive start, a pace no doubt setting Scanlon up for a promising career.
Between the eight Elite Series tournaments and three Central Open tournaments, entry fees total nearly $50,000, all of which Scanlon is covering primarily through cash earnings, flipping boats won along the way and recently selling his landscaping business.
Scanlon said his participation in Central Open events sometimes draws the ire of less-seasoned anglers seeking to follow his path to the Elite Series, but the each tournament represents another chance to sustain a young career rather than an opportunity to play big fish in a small pond.
"They don't have what I have at stake," he said.
Financing his career, Scanlon said, has been his biggest challenge thus far — which isn't to say fishing against nearly 100 of the sport's finest isn't itself a tall task. You fire up your motor on the first of at least three eight-hour days on the water, seeking to master the lake and its hot spots, read its conditions and negotiate around scores of experienced anglers, each with their own souped-up systems and precise fish-finding technology.
"It's a humbling sport," he said. "I was given a dose of reality after fishing awhile. Ups and downs and a lot of disappointments."
Out on Lone Star Lake, Scanlon awaited a curveball. The seventh Elite Series tournament, to be held on a "mystery lake" four days after the June 21-24 event in LaCrosse, Wis., along the Mississippi River, would be revealed that afternoon.
He had hoped it would not be what it would indeed become: Lake Michigan on June 28-July 1.
As the sun spilled down on Lone Star Lake, Scanlon pulled in a three-pound largemouth, held it for a moment and tossed it back into the 195-acre lake.
He had half-expected Lake Michigan — with a surface area of 29,000 square miles — to be the mystery lake, so he had already imagined navigating a body of water that swallows you like the ocean does, where heavy white bass and wipers can intercept your bait, stealing precious time and energy from the pursuit. A lake whose entry fee doesn't include the installation of extra bilge pumps and drift socks for safety and utility.
Three days just won't be enough to break down the lake like most on the trail.
The tournament will be won on smallmouth bass, Scanlon said, fish that put up an even greater fight than their relatives.
"I think my biggest challenge may be ahead of me," Scanlon said.