Dinner train plans to relocate to Baldwin City's Midland Railway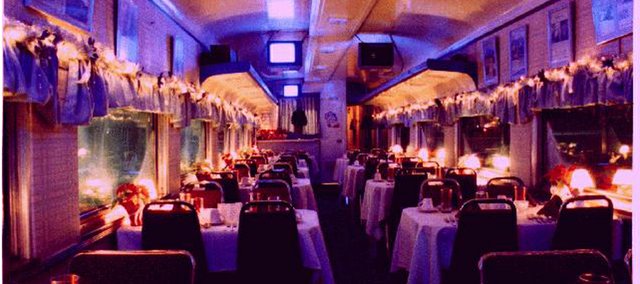 A Fremont, Neb., railroad dining car restaurant will have a new home this fall on the Midland Railway if its owners clear one more hurdle.
Bruce Eveland, the manager of the Fremont Dinner Train and one of its five investors, said two recent developments have opened the way for the relocation of the dinner train's operation from Fremont to Baldwin City, where it would be known as the Free State Dinner Train.
On June 1, Gov. Sam Brownback signed legislation sponsored this session by state Rep. TerriLois Gregory, R-Ottawa, giving railroad dining cars the same right as traditional restaurants to apply for liquor licenses.
Then last week, the Douglas County Commission approved a county Heritage Conservation Council recommendation that a $54,000 Natural and Cultural Heritage Grant be awarded to help the Midland Railway install at a cost of $180,000 a track on which the Free State Dinner Train will park when not in use. The new tracks will have access to utilities needed for the cars' freezers and refrigerators.
The remaining obstacle to the move is acquiring use of 10 blocks of unused Union Pacific tracks to move the dinner train's four cars to a Burlington Northern Santa Fe spur line in Fremont so they can be moved to Ottawa.
"That's the big hurdle, right now," Eveland said. "I really don't want to use trucks. The cost would be substantial."
Eveland said he was attempting to enlist political help to convince the Union Pacific to allow use of the tracks.
The Freemont Dinner Train has operated for 23 years on the Fremont and Elkhorn Valley's 15-mile excursion line, Eveland said. The non-profit railroad's locomotive pulls the dinner train's four dining cars, which offers five-course meals on Friday and Saturday evenings and three-course Sunday afternoon meals.
One of the cars is a dining car, one a combination dining and lounge car and two are galleys for food preparation, Eveland said. There is capacity for 192 diners, he said.
The recent sale of the Fremont and Elkhorn Valley Railroad and concerns about its maintenance led Eveland to contact Midland Railway representative about relocating the dinner train to Baldwin City.
"We've been in touch through the years," he said. "Initially, they did not feel the timing was right. We made contract with the Midland operation again last fall, and everybody was ready to go at that point.
"I think it's a good fit for all of us. From the economic standpoint, it's fair to say it's a superior location than here. I'm very impressed with the operational sills of the Midland people and how they run and maintain their operation."
Mike Fox, president of the Midland Railway Historical Association, said the dinner train gave Midland the opportunity to reintroduce railway dining cars it last offered in the 1990s. He predicted it would be a tourism boost for Midland Railway and Baldwin City.
"Most years, we bring about 20,000 people to Baldwin City," he said. "That's second only to the Maple Leaf Festival. The dinner train would bring another 8,000 to 10,000. That's people who will buy gas in Baldwin City or stay overnight in local lodging."
The dinner train operates 12 months a year while Midland Railway's regular season goes from April through the end of November with special rides such as the Santa train and Easter train scheduled near the start and end of the season, Fox said.
"We'll have to make some adjustments," he said. "We'll need to equip a locomotive with all-weather capabilities.
"There's some opportunities for synergies. Their cars are heated and air-conditioned, and ours are not. It's a better opportunity for our Easter and Santa trains."