Douglas County Relay for Life raises $175,000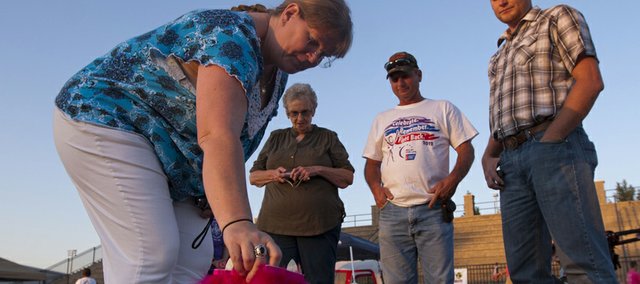 More than 295 cancer survivors walked a lap around the luminaria-lined Free State High School track Friday night to begin the Douglas County Relay for Life.
The lap represented survival, and the luminarias were in memory of loved ones who have died or are fighting cancer. Although the event itself is meant to represent a day in the life of a cancer patient, for Lawrence resident Leila Gollhofer, Relay for Life represents that she wasn't defeated by her breast cancer diagnosis seven years ago.
"It just gives you hope and a feeling of being alive, and that's the greatest feeling — knowing you beat cancer, not that it beat you," Gollhofer said.
Relay for Life was started in 1985 when a surgeon from Washington walked 24 consecutive hours and raised $27,000 for the American Cancer Society in honor of his patients. The campaign spread across the world, and now individuals and teams who participate often begin their fundraising efforts months before the walking event is scheduled. With more than 695 registered participants, Douglas County Relay for Life raised more than $175,000 this year. The money will go toward the American Cancer Society for cancer research and assisting cancer patients.
Gollhofer had attended Relay for Life before she received her cancer diagnosis and said the event helped her to meet others who had been through similar experiences with cancer. After her diagnosis, she said was able to relate to them and now has many friends who participate in the event, including the people who supported her when she was going through treatment.
"It touches (the people walking) in a way that is just indescribable," Douglas County Relay for Life co-chair Shelle Arnold said. "It really gives everyone a sense of community."