Baldwin coaching great dies
Venable remembered as tough, caring, compassionate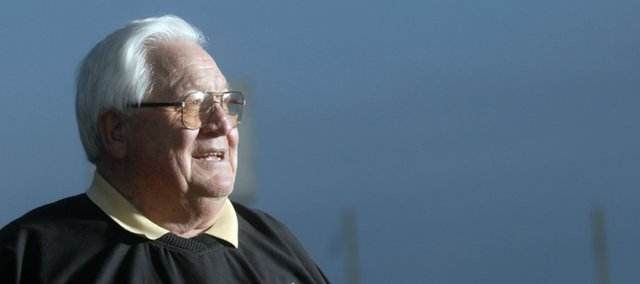 Baldwin High School lost one of its coaching greats with the death last Thursday of Merle Venable. He was 77.
Ted Zuzzio, Baldwin High School girls track coach, said Venable died after a long and courageous battle with cancer.
Venable was the football coach at Baldwin from 1966 to 1985. Zuzzio was his assistant for the last nine of those years. During that time, Baldwin won seven-straight league championships, was state runner-up in 1978 and
Class 4A state champion in 1981.
The 1972 team Venable coached was also a state runner-up and he coached two state runner-up track teams in 1972 and 1980.
"He was a wonderful coach and a winning coach," Zuzzio said. "He cared about every kid on the team and every kid in the school.
"He taught me how to care."
Zuzzio joked that Venable was now with his heroes Jessie James and Cole Younger, two Wild West outlaws he would always bring up to kids when coaching. It was not the only Western reference in his coaching toolbox.
"We listened to the record 'High Noon' every game before going on the field," Zuzzio said. "It's a song about courage and doing the right thing. We carried a record player when we played on the road. We'd plug it in, play the song and hit the field."
It is true that Venable never wore a coat during football games no matter what the temperature, Zuzzio said. In a Lawrence Journal-World story on the coach that was published in April 2007, Venable said he never felt cold at ballgames. Zuzzio said the heat of the action kept him warm and it was a joy to watch the coach enthusiastic response when the team scored or did something good.
Quinn Miller, who played for Venable from 1979 to 1982, said he was a tough but caring coach.
"He challenged you," he said. "He'd kick your butt when you needed it. It wasn't an easy ride.
"But there was mutual respect and love. When you got older, you understood."
George McCrary, who played four years for Venable before graduating in 1984, said it was his compassion that set him apart as a coach.
"That was his No. 1 trait," he said. "It wasn't just for the game, but for the players."
His compassion wasn't limited to coaching, McCrary said. Just recently, when Venable was in the hospital receiving treatment from cancer, he took time to call to ask about the health of McCrary's sister and mother, he said.
It was not an isolated incident.
"I can't tell you how many times he asked me to call someone and check on them," McCrary said.
Family friend Susan Butell said there was another side to the tough football coach. During his service in Korea during the war, he carried two books with him in the foxhole: an Audubon book on birds and a volume of poetry by John Keats.
"He loved to read," she said. "He read every book on past presidents. He was always asking if you had read the latest book."
Venable left Baldwin for a position in Yates Center. He is quoted in a 2007 story in the Lawrence Journal-World as regretting the move.
Zuzzio said Venable never lost interest in the success of the Baldwin High School football or other teams at the high school.
"He bled purple and white," Zuzzio said.