Black Jack Battle to be remembered Saturday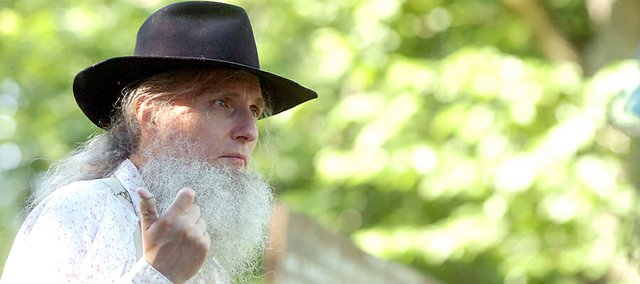 Abolitionist John Brown will retrace his footsteps across Black Jack Battlefield as he gives tours of the place in which the first open battle over slavery began, exactly 156 years ago Saturday. The Battle of Black Jack was the beginning of Brown's war on slavery and is considered the beginning of Civil War combat in Kansas.
"It's an extremely important part of our national history and the history of the Civil War, and it took place right down the road," said Kerry Altenbernd, vice president of Black Jack Battlefield Trust.
To commemorate the 156th anniversary of the battle, Black Jack Battlefield and Nature Park will host four events beginning early Saturday morning at the site near Baldwin City.
A free guided tour, The Dawn at Black Jack Battlefield, will begin at 5 a.m. at the Robert Hall Pearson farmstead home. Guests should arrive by 4:45 a.m. to walk the battlefield with John Brown at the same time of day the battle that took place.
At 1 p.m. John Brown will take guests on a free tour of the battlefield and reminisce about the battle itself.
A nature park tour will begin at 2:30 p.m. and guests will get to walk the Black Jack Nature Park trails with a park naturalist.
The final and main event to celebrate the anniversary of the Battle of Black Jack is the Lamplight Camp Tour. Guides will lead guests by lamplight through the battlefield. The tour will include five re-enacted scenes depicting the Bleeding Kansas time period of 1854-1861.
"People will start at the house and they'll be in the 21st century, but we want people to, as they go on the tour, feel like they're back in 1856," said Altenbernd, who will portray Brown as he has done for many years.
The walking tours cost $8 for people 12 and older and last about one hour. Gates for the tours open at 8 p.m. and the first tour will depart at 8:45 p.m., with tours departing every 15 minutes.
The Gum Springs Serenaders, a band made up of re-enactors who play period music on period instruments they've built, will perform from 8 p.m. until 9 p.m. Visitors will also get to chance to view the battlefield's traveling exhibit. Refreshments and Black Jack Battlefield merchandise will be available.
Altenbernd recommended that visitors who are planning to take a tour wear pants and closed-toe shoes.
The Black Jack Battlefield and Nature Park is open from dusk until dawn, 365 days a year. Guided tours are provided at 1 p.m. Saturdays and Sundays through Oct. 21.
The battlefield and park are three miles east of Baldwin City on U.S. Highway 56. At East 2000 Road, turn south and follow the road a quarter-mile to the park entrance.