Mexican restaurant to open in downtown Baldwin City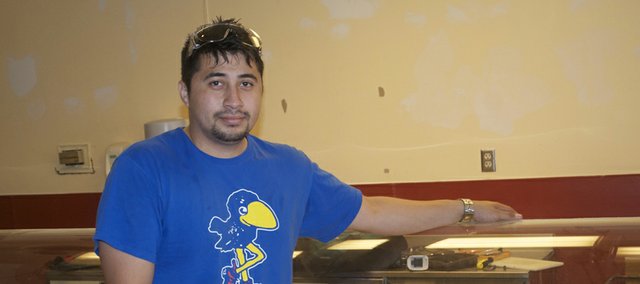 After a spate of downtown business closings this year, Baldwin City will see the opening next month of a new restaurant in the district.
This week, Beto Aquilar started remodeling the old Wheat State Pizza, closed since February at 711 Eighth St., for the planned August opening of the El Patron restaurant he will own and manage. El Patron will have the same food and drink menus as the El Mezcal restaurants in Lawrence, where Aquilar now works.
"There's been a lot of rumors we were coming or we weren't coming," he said. "I know there are a lot of people from here that eat at El Mezcal because I get asked all the time 'are you coming to Baldwin?' The truth is we've been so busy with the opening of other restaurants we just haven't had time to get to it."
El Mezcal expanded into Tonganoxie at the start of the year with the opening of Jalapenos. Aquilar said his involvement with that restaurant, which opened with unexpected popularity, has been the primary reason for the delay on work at the Baldwin City location.
He now sees things moving ahead swiftly because there is little remodeling to do. The floor at the old pizza parlor is in good shape and does not need retiled, and he has decided to just paint the walls, at least for now.
"We have a painter from Missouri, who is the best," Aquilar said. "It will be very bright and colorful. It will be different for Baldwin."
The remodeling should be finished in two weeks. El Patron will then open when all the permits and licenses are in place. Aquilar said it would be great timing to open El Patron with the start of classes at Baker University in late August.
"It will be a nice little place for students and families," he said. "It will be a nice place to come in to get some Mexican food and a margarita."