Baldwin City teen gives voice to her passion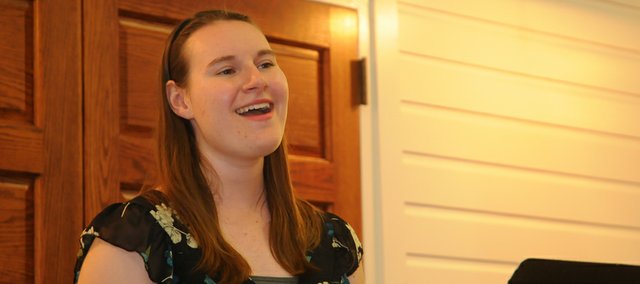 Sixteen-year-old Maddie Miley surrounds herself with music.
She's a member of the Baldwin City Children's Choir, the Annunciation Catholic Church choir and the choir at Baldwin High School, where she also plays flute in the school band. She has played piano since she was 5 years old and is also interested in musical theater. She performed in the Baldwin Community Theater's Cabaret show and often is involved in school and community musicals.
"There's not really much that goes on where there isn't music," said Maddie's mother Deanna Kessler-Miley.
Even with school dismissed for the summer, Maddie continues to pursue new music experiences. Maddie and 23 other Kansas City area musicians, ages 15-23, were chosen to participate in a Grammy Museum pilot program for its Music Revolution Project.
The four-week program, held at the Kauffman Center for the Performing Arts and the Sprint Center, gave students an opportunity to learn about music genres, receive instruction, rehearse and be mentored by musical talents such as writer Jimmy Jam and Def Leppard's Phil Collen.
The Miley family receives emails and updates from the Kauffman Center and, when Deanna got an email explaining the launch of the program, she encouraged her daughter to apply.
"They said they were looking for people who had a passion for music and that music was really important to them, and I think that's Maddie," Deanna said.
Mornings would usually include a lecture; in the afternoons, the students would break into groups, write songs and rehearse. They'd critique one another and would typically spend Fridays recording the songs they wrote.
Maddie attended the program for vocals and played the flute in a song the students wrote. The students attending the program each had different musical talents, and many played multiple instruments, which was something new to Maddie.
"It was a little intimidating because I don't have too many friends who can play eight or 10 instruments, but it was so much fun to be able to work with people like that and learn from what they know and develop with them," she said.
Maddie's favorite part of the program was making musical friends and meeting people who share her passion for music. 
"This will definitely be a summer I will always remember," Maddie said.
— Staff intern Meagan Thomas can be reached at 832-6342.