Baldwin City 2013 budget decreases spending, increases mill levy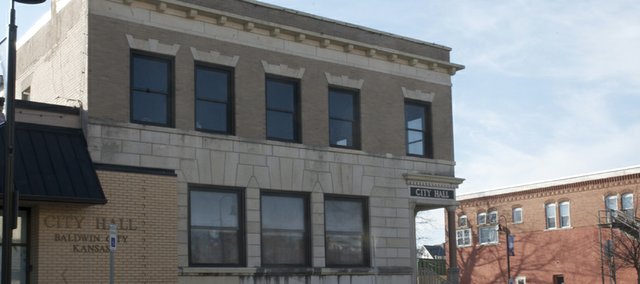 The Baldwin City Council on Tuesday approved a 2013 budget for publication that cuts the city's overall spending while increasing the mill levy by 0.572 mills to 33.778 mills.
That seeming inconsistency can be explained by the fact that although it is proposed overall city expenditures be decreased from $17.17 million to $15.07 million spending increases are proposed of two funds supported by property taxes — the general fund and bond and interest fund. The temporary notes secured for the Sixth Street project added to 2012 spending levels.
In the proposed budget, general fund spending would increase from $1.987 million to $2.399 million and bond and interest payments would increase from $347.683 to $348,835. Another factor is a 2.67 percent decrease in the city's overall valuation, which means 1 mill of taxing authority produces less revenue.
In his report to the council, City Administrator Chris Lowe said steady sales tax receipts and increased revenue from motor vehicle taxes helped offset the decrease in valuation.
The council will have an Aug. 6 hearing on the budget. At that time, it can decrease spending levels but would have to republish the budget to increase spending.
Among highlights of the general fund budget requests are:
• New hand-held radios for the street department.
• Purchase of a mini-backhoe with the cemetery and waste water fund sharing in the expense.
• $3,000 for support of the new senior busing service.
• Transfer of about $260,000 to the general capital improvement projects for street improvements.
Lowe also proposed general fund spending in line with the council's goals, including:
• $50,000 for a business park feasibility study.
• $50,000 for entrance and way-finding signage.
• Money for added plant materials downtown.
• $10,000 for façade improvement grants to downtown buildings
• $30,000 to pursue unforeseen economic development opportunities.
Capital improvement spending proposed for 2013 includes the city's responsibilities for two coming Kansas Department of Transportation projects on U.S. Highway 56. They are $77,000 for the design of the realignment of the High Street/U.S. Highway 56 intersection and $71,961 for right of way acquisition for the planned addition of a turn lane at the Lawrence Street intersection.
Also built into the published budget is purchase of a new patrol vehicle and mobile computer units and radios for the police department and a front-end loader for the street department.