State informs Baldwin City of need to conserve water with drought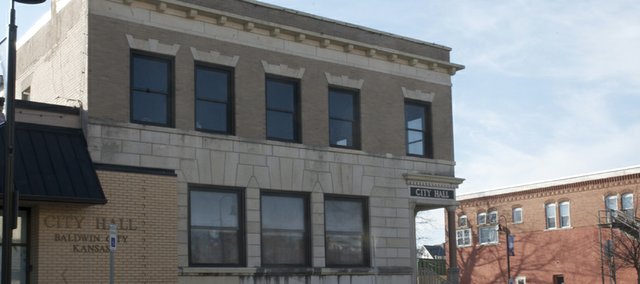 Although the need isn't yet critical, city residents should start taking steps to conserve water, Baldwin City public works supervisor Bill Winegar said Monday.
Winegar shared with the Baldwin City Council a July 6 letter from the Kansas Water Office stating that Gov. Sam Brownback had found every county in the state to be in some stage of drought watch, warning or emergency.
Clinton Lake (the source of Baldwin City's water) and its watershed were placed in a watch status, with the lake's capacity reduced to less than 80 percent. The letter states the reservoir is "in good shape" but adds that the city's drought watch plan should be in effect as hot, dry weather continues.
The watch plan calls on the city to forego such things as flushing hydrants, street cleaning and repairing waterline breaks (which have been numerous with shifting dry soil) within 48 hours of detection, Winegar said.
The city is also required to inform the public of the need for water conservation through such means as posters and notices on water bills. Winegar said residents are being asked to take such moderate steps as watering lawns at night and making sure their sprinklers are watering grass and not "driveways and concrete." The letter also states residents should make efficient use of water by washing full loads of laundry, taking shorter showers and not letting faucets run.
Should Clinton Lake's reservoir capacity drop below 70 percent and demand exceed 1 million gallons a day for five consecutive days, the water office will issue a warning with the goal of reducing peak demand by 20 percent and overall weekly consumption by 10 percent.
At that level, the city would be required to repair leaks within 24 hours of detection, forego watering grounds (which the city doesn't do) and washing vehicles. It also would be required to step up public education efforts on water conservation.
Winegar said the city's compliance with the conservation efforts was part of its contract to use water from Clinton Lake. The Kansas Water Office has the authority to enforce the measures, including the right to shut off the city's water supply, he said.