Multiple departments battle 'complex' grassfire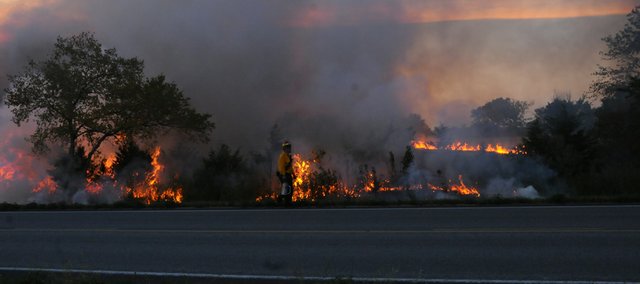 Baldwin City area firefighters those from rural departments in Douglas County and two neighboring counties battled a "complex" series of grassfires late Sunday afternoon along U.S. Highway 56 just northwest of town.
Palmyra Fire Chief Randy DeMarsseman said Sunday he wasn't sure when the first call came in but thought was about 5 p.m. The call was for a fire in an unpopulated area north of U.S. Highway 56 and east of Douglas County East 1600 Road. His department, the Baldwin City Fire Department and units from Lawrence City Fire Department and rural fire department from Douglas, Franklin and Johnson counties would eventually battle three different fires in the late afternoon heat along 1.5 miles of U.S. 56. The farthest west fire was about 1 mile west of East 1600 Road, he said. Traffic was rerouted off the highway for a time during the fire.
The mutual aid units were released about 9 p.m. when the only remaining flames were those from a backfire set to prevent grassfires from spreading should winds shift or increase during the night, DeMarssman.
One firefighter was taken to Lawrence Memorial Hospital for treatment for a heat-related condition, DeMarssman said.
"It was a very complex fire," he said. "The reason we called in so much help was because of the heat and the amount of fuel out there."
DeMarssman said those in vehicles passing by during the fire handed out bottle water to firefighters and one property owner brought water, too.
"It was a group effort, and a very impressive group effort," DeMarssman said.
No structures were lost in the fire, DeMarssman said. One field of double-crop soybean field planted in wheat stubble was destroyed in the eastern-most fire, he said. That fire spread about ¼ mile north of the highway, he said.
DeMarssman said the cause of the fires wasn't known but added there was plentiful fuel for grassfires in the current dry conditions.
"We have no evidence of what started the fires," he said. "This is what could happen day or night with just the smallest fire.
"We don't have a burn ban in the county. Everybody has been hoping we'd have significant rainfall. There's a lot of fuel along the roadsides that just needs a little spark. Everybody needs to be very, very careful."